09-01-2015 | ORIGINAL PAPER | Uitgave 5/2015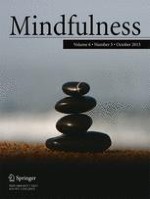 Predictors and Effects of Class Attendance and Home Practice of Yoga and Meditation Among Breast Cancer Survivors in a Mindfulness-Based Cancer Recovery (MBCR) Program
Tijdschrift:
Auteurs:

Rie Tamagawa, Michael Speca, Joanne Stephen, Barbara Pickering, Linette Lawlor-Savage, Linda E. Carlson
Abstract
Previous studies have demonstrated health benefits of mindfulness-based interventions (MBIs) among cancer patients. While sustained mindfulness practice is an integral part of MBIs, few studies have examined the role of home practice on intervention outcomes. Also, little is known about characteristics of those who attend more classes and practice more yoga and meditation. Hence, this study investigated predictors and outcomes of engagement in a Mindfulness-Based Cancer Recovery (MBCR) program. Questionnaire data and home practice logs of 38 breast cancer survivors were collected before and after MBCR. A range of demographic, personality, and symptom-related factors were measured. Correlations and regression analyses were conducted. Only greater baseline anxiety was correlated with more home meditation practice (
p
 < .05). Class attendance (
p
 < .01) and home meditation and yoga practice (
p
 < .001) were all significantly associated with improved post-traumatic growth (PTG) and attendance with improved spirituality (
p
 < .001) and vigor (
p
 < .01). In multiple regression, total home practice time was the best predictor of improvements in PTG. Class attendance was the best predictor of changes in vigor and improvements in spirituality, and meditation time was the best predictor of improvements in mood. More neurotic survivors attended more classes (
p
 < .01), while more defensive women attended fewer (
p
 < .05). Additionally, married or cohabitating women, those with greater baseline self-esteem (
p
 < .01) and to a lesser extent lower depressive mood, higher social support, and more extraversion (
p
 < .05), practiced more yoga during the program. Directionality and clinical significance of these changes need to be further investigated.