02-02-2016 | Original Article | Uitgave 4/2016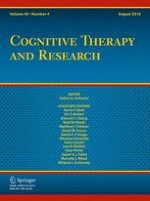 Predictive Importance of Antenatal Depressive Rumination and Worrying for Maternal–Foetal Attachment and Maternal Well-Being
Tijdschrift:
Auteurs:

Dana Schmidt, Sabine Seehagen, Silja Vocks, Silvia Schneider, Tobias Teismann
Abstract
Rumination and worrying are relevant to the onset and maintenance of depression and anxiety. Yet, it is unclear, whether depressive rumination and worrying are predictive for depressive and anxious symptomatology during pregnancy. Likewise, the potential role of depressive rumination and worrying for maternal–foetal attachment has been rarely explored. In the present longitudinal study,
N
= 215 pregnant women were assessed within the first 4 months of pregnancy and again in the last 4 months of pregnancy. Using regression analysis, associations between worrying and depressive rumination on the one hand and maternal–foetal attachment, depression and anxiety on the other were studied—controlling for age, number of children, social support and baseline antenatal depressive and anxious symptoms. Baseline rumination was a significant predictor of impairments in maternal–foetal attachment in later pregnancy. Baseline worrying was a significant predictor of heightened depressive symptoms and anxiety. These effects were of modest magnitude. Nonetheless, our findings reveal that different types of perseverative thinking (i.e., rumination vs. worry) might have differential effects on maternal well-being and maternal–foetal attachment.