01-02-2008 | Original Article | Uitgave 1/2008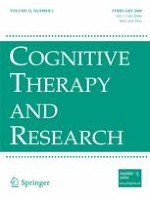 Post-Event Processing in Social Anxiety Disorder: Idiosyncratic Priming in the Course of CBT
Tijdschrift:
Auteurs:

Nancy L. Kocovski, Neil A. Rector
Abstract
Post-event processing (PEP) is the cognitive rumination that follows social events for patients with social anxiety. The PEP period was examined in relation to two anxiety provoking tasks in cognitive behavioural group therapy for social anxiety disorder: (1) Attending the first group therapy session (
n
= 75), and (2) An individually tailored in-session exposure task (
n
= 50). An assessment of PEP was conducted the week following each task as an indication of the extent of rumination over that event during the subsequent week. Significant PEP occurred after both events, and greater baseline social anxiety predicted greater levels of PEP related to both tasks. Anxiety ratings, as conceptualized by SUDS, were positively correlated with the severity of subsequent PEP related to the exposure task. There was also support for the stability of PEP across the two tasks and for the specificity of the content of PEP as rumination related to social failure, rather than rumination related to depressive symptoms. This study provides additional empirical support for the role of PEP in the cognitive model of social anxiety disorder.