08-09-2018 | Uitgave 11/2018 Open Access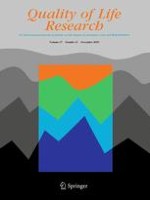 Population health status based on the EQ-5D-Y-3L among adolescents in Sweden: Results by sociodemographic factors and self-reported comorbidity
Tijdschrift:
Auteurs:

Mimmi Åström, Carina Persson, Margareta Lindén-Boström, Ola Rolfson, Kristina Burström
Belangrijke opmerkingen
Electronic supplementary material
Abstract
Purpose
The EQ-5D-Y-3L is a generic health-related quality of life (HRQoL) measure developed for youth from 8 years old. The aim of this study is to present population health status, based on the EQ-5D-Y-3L, among adolescents in Sweden, by sex, age, self-reported comorbidity and parents' occupational status.
Methods
Data were obtained from a cross-sectional total survey among students, aged 13–18 years, in a Swedish County year 2014. The survey included EQ-5D-Y-3L, questions regarding self-reported health, disease, functional impairment and mental distress. Parents' occupational status was used as a proxy for socio-economic status.
Results
A total of 6574 participants answered all the EQ-5D-Y-3L dimensions (mean age was 15.9 years, same proportion of boys and girls). Girls reported more problems than boys in the dimensions 'doing usual activities', 'having pain or discomfort' and 'feeling worried, sad or unhappy', and lower mean VAS score. Respondents with one or both parents unemployed reported more problems with usual activities, pain/discomfort and in the mood dimension than those with both parents employed. Those with comorbidity had in general more problems in all dimensions and lower mean VAS score. The highest impact on VAS score was found for adolescents who reported that they always felt depressed.
Conclusions
Sex, age, self-reported comorbidity and parents' occupational status were associated with HRQoL determined by the EQ-5D-Y-3L in the general population of adolescents. The ability of EQ-5D-Y-3L to distinguish adolescents' health status based on these factors confirms the instrument's usefulness in assessment of HRQoL and as guidance for prioritization.