01-12-2021 | Research | Uitgave 1/2021 Open Access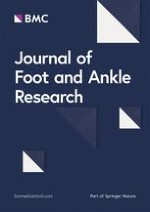 Podiatrists' views and experiences of using real time clinical gait analysis in the assessment and treatment of posterior tibial tendon dysfunction
Tijdschrift:
Auteurs:

Paul Harradine, Lucy Gates, Cheryl Metcalf, Catherine Bowen
Belangrijke opmerkingen
Supplementary Information
Publisher's Note
Springer Nature remains neutral with regard to jurisdictional claims in published maps and institutional affiliations.
Abstract
Background
Real time clinical gait analysis (RTCGA) is often incorporated as part of a general or lower limb musculoskeletal (MSK) adult patient assessment. However, it is not known if RTCGA is clinically effective as a useful outcome measure or aids in decision making. Whether there is a clinical worth in conducting RTCGA in adult MSK consultations remains controversial. The aim of this study was to provide unique insights into MSK podiatrists use and opinions of RTCGA, using Posterior Tibial Tendon Dysfunction (PTTD) as an exemplar adult condition.
Methods
A qualitative approach was employed to explore MSK podiatrists' views and experiences of RTCGA when assessing or treating patients with PTTD. Semi-structured interviews were conducted via Skype video calls which were transcribed using an orthographic transcription method. Thematic analysis was employed to identify key meanings and report patterns within the data.
Results
Twenty nine MSK podiatrists who used RTCGA in the assessment and treatment of PTTD participated in the study. Five themes were identified as 1) RTCGA Method; 2) Working with RTCGA; 3) RTCGA uses; 4) What could aid RTCGA; 5) How RTCGA skills are acquired. This is the first known study to explore this topic of relevance to clinicians and researchers alike. Clinical observations were not only kinematic, but also included patient perceived experiences such as pain and orthotic comfort with normative kinematic reference values not perceived as important to that management goal. The most common barefoot RTCGA observations performed were the rearfoot to leg angle, medial bulge, forefoot abduction and arch integrity. However, a high amount of variation in many gait observations was noted between participants. Documentation methods also varied with a four-point scale system to grade motion and position most often employed and RTCGA was most often learnt through experience. The main barriers to performing RTCGA were clinical time and space restrictions.
Conclusion
Findings from this study have provided a view of how podiatry MSK clinicians utilise RTCGA within their practice. MSK podiatrists use RTCGA as both an outcome measure and as an aid in decision making. This implies a perceived worth in conducting RTCGA, however further work is recommended that focusses on development of a national guideline to RTCGA to be adopted.