01-12-2014 | Origineel artikel | Uitgave 6/2014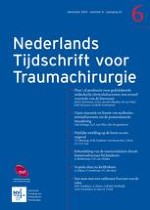 Plaat- of penfixatie voor gedislokeerde midschacht claviculafracturen; een actueel overzicht van de literatuur
Tijdschrift:
Auteurs:

M.H.J. Hulsmans, O.A.J. van der Meijden, M. van Heijl, R.M. Houwert, E.J.M.M. Verleisdonk
Belangrijke opmerkingen
1 M.H.J. Hulsmans, onderzoeker
2 O.A.J. van der Meijden, onderzoeker
3 M. van Heijl, aios chirurgie
4 R.M. Houwert, aios chirurgie
5 E.J.M.M. Verleisdonk, traumachirurg
Alle auteurs zijn verbonden aan het Diakonessenhuis, afdeling Heelkunde, Utrecht/Zeist/Doorn
Samenvatting
Doel:
Er bestaat controverse over de optimale operatieve behandeling van gedislokeerde midschacht claviculafracturen (GMCF). Het doel van dit artikel is om een systematisch overzicht te geven van de huidige literatuur die plaatosteosynthese vergelijkt met intramedullaire (IM) fixatie van GMCF.
Methode:
Op 14 oktober 2013 zijn de online databases van PubMed/MEDLINE, Embase en de Cochrane Library doorzocht. Studies zijn gescreend op in- en exclusiecriteria. De kwaliteit van de studies is beoordeeld met behulp van de GRADE-benadering van het Oxford Centre of Evidence Based Medicine en Quality Assessment Tool van de Cochrane Bone, Joint en Muscle Trauma Group. Studiekarakteristieken, complicaties en functionele uitkomsten (Constant-score) van geïncludeerde studies zijn samengevat in tabellen, ingedeeld naar toegekende 'Level of Evidence'.
Resultaten:
Zes studies zijn geïncludeerd. In al deze studies werd plaatosteosynthese van acute GMCF vergeleken met intramedullaire penfixatie, bij patiënten tussen de 18 en 65 jaar oud. Aan twee studies werd een
high
'level of evidence' (LoE) toegekend, aan drie studies een
low
LoE en aan één een
very low
LoE.
Het merendeel van de complicaties was gerelateerd aan het implantaat, zoals irritatie van de plaat of pen, en kwam in elke studie voor in 0-62% van de gevallen. Percentages non- en malunion lagen in alle studies beneden de 10%. De verschillen in schouderfunctie waren na ten minste één jaar follow-up minimaal (Constant: 92,1
vs.
88,7).
Conclusie:
Het aantal complicaties na operatieve behandeling van GMCF dat re-interventie na plaatosteosynthese en IM-fixatie noodzakelijk maakt, is laag, maar er is wel een fors aantal patiënten dat klachten heeft van de geplaatste implantaten. Daarnaast zijn de functionele uitkomsten één jaar na beide ingrepen relatief goed.