23-12-2015 | Artikel | Uitgave 2-3/2016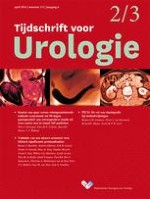 PICO: De rol van elastografie bij testisafwijkingen
Tijdschrift:
Auteurs:

dr. Rianne J. M. Lammers, drs. Pieter J. van Doormaal, dr. Richard P. Meijer, drs. Tycho M. T. W. Lock
Samenvatting
Met elastografie kan er extra informatie worden verkregen over de hardheid ofwel
strain
van een (testiculaire) afwijking, wat de kans op een maligniteit meer of minder waarschijnlijk maakt. In deze PICO vergeleken wij elastografie met de conventionele (of
grey-scale
) echo scrotum bij patiënten met een testiculaire afwijking, met als uitkomstmaat het vaststellen of uitsluiten van een maligniteit. Helaas is er over dit onderwerp heel weinig literatuur beschikbaar; wij vonden slechts vier studies. Aangetoond is dat elastografie extra informatie kan opleveren; de studie van Aigner et al. toont een stijging van de specificiteit van 6 % (75 % met conventionele echo versus 81 % met elastografie). Bovendien is elastografie een relatief makkelijk en snel uitvoerbaar onderzoek. Echter, harde conclusies zijn niet mogelijk gezien het geringe aantal onderzoeken en de methodologische beperkingen van de artikelen. Voor de dagelijkse praktijk zijn wij van mening dat elastografie bij testisafwijkingen een meerwaarde kan hebben, maar meer onderzoek is wenselijk.