24-07-2018 | Original Paper | Uitgave 1/2019 Open Access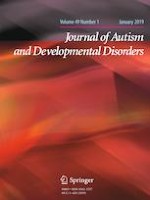 Physical health in children with neurodevelopmental disorders
Tijdschrift:
Auteurs:

Setareh Alabaf, Christopher Gillberg, Sebastian Lundström, Paul Lichtenstein, Nóra Kerekes, Maria Råstam, Henrik Anckarsäter
Belangrijke opmerkingen
Electronic supplementary material
The original version of this article was revised: The typo in Figure 3 part labels are corrected.
Introduction
In the present study, we used a Swedish nationwide general population cohort of twins to examine (a) the relationship between any "single" NDD and a variety of physical problems (epilepsy, migraine, asthma, cancer, diabetes, psoriasis, lactose intolerance, celiac disease, diarrhea, constipation, daytime enuresis, encopresis) and (b) if various constellations of NDDs are differently associated with these defined physical problems. The study provides a map of phenotypical associations between NDDs and physical problems, but does not assess underlying etiological factors, such as gestational age, birth weight or genetic mechanisms.
Methods
Subjects
Participants were included from the ongoing Child and Adolescent Twin Study in Sweden (CATSS) (Anckarsater et al.
2011
) that aims to track all twins born in Sweden from 1992 and onwards. A telephone interview is conducted with the parents around the time of the children's ninth birthday. The first three years of the CATSS interviews were conducted with parents of 12 year-old twins as well, to increase the number of birth cohorts included in the study. The entire CATSS-study has been described in detail in an overview article (Anckarsater et al.
2011
). The present study comprises data on 28,058 children (all twins) born between the 31st of June 1992 through the 31st of December 2006, with a close to equal distribution of girls and boys (13,770 girls and 14,288 boys), and with over three times as many 9 year-olds as 12 year-olds (21,538 and 6520, respectively). Zygosity was determined by DNA sampling and use of questions on twin similarity (Hannelius et al.
2007
). There were 7990 monozygotic (MZ), 9744 dizygotic same sex (DZss), 9722 dizygotic different sex (DZds) and 602 twins with unknown zygosity.
Measures
A-TAC
The telephone interview in CATSS includes the Autism-Tics, ADHD and other Comorbidities (A-TAC), which is a fully structured interview designed to be used by laymen over the telephone. It consists of 96 questions, 17 of which correspond to the "ASD module", 19 to the "ADHD module", and 3 to the "LD module". Each question has four response options: "no" (0), "yes, to some extent" (0.5), "yes" (1) or "I don't know/I do not wish to answer" (missing). The A-TAC was developed based on the diagnostic criteria of DSM-IV, therefore its ASD module covers social interaction, language-communication, and flexibility-repetitive behavior problems in children, its ADHD module covers attention and activity/impulsiveness problems while the LD module measures learning difficulties in reading, writing and mathematical skills but does not exclude children with intellectual disability. The ASD, ADHD and LD modules of A-TAC have been extensively validated against DSM-IV criteria and ICD codes F84.0, F84.1, F84.5 and F84.9 for ASD, F90 for ADHD and F70-F79 for LD (Hansson et al.
2005
; Larson et al.
2013
; Marland et al.
2017
). Assessments of the predictive validity of these A-TAC modules have shown Areas Under the Curve (AUC) of 0.88 for ASD, 0.90 for ADHD and 0.74 for LD (fair to excellent overall validity) (Hansson et al.
2005
). In the present study, the high cut-off of each module was used to identify children with these NDDs, providing higher specificity and lower sensitivity. For ASD, the cut-off of ≥ 8.5 has a specificity of 0.91 and a sensitivity of 0.61, for ADHD, the cut-off of ≥ 12.5 has a specificity of 0.93 and a sensitivity of 0.56 and for LDs, the cut-off = 3 has a specificity of 0.93 and a sensitivity 0.41 (Larson et al.
2010
). Children meeting one or more of these cut-offs constituted the "
NDD group
", while the "
Comparison group
" consisted of twins who did not meet any of them. We excluded all children from the comparison group who fulfilled even the low cut-off criteria for ASD, ADHD or LD, with the purpose to provide a fully negative control group. Low cut-offs for ASD (≥ 4.5, specificity 0.88, sensitivity 0.96), ADHD (≥ 6.0, 0.81/0.98) and LD (≥ 1.0, 0.75/0.88) were characterized by high sensitivity but lower specificity (Larson et al.
2010
). To be able to view the specific questions asked, the English version of A-TAC can be accessed by visiting the following web page:
http://​gillbergcentre.​gu.​se/​digitalAssets/​1566/​1566533_​a-tac_​english.​pdf
.
Physical Problems
Physical problems were also assessed during the telephone interviews using questions requiring simple yes or no answers from the parents. Examples are: "Has he/she ever had any of the following diagnoses or disabilities": Epilepsy? Migraine? Asthma? Cancer, tumor or leukemia? Diabetes? Psoriasis? Lactose intolerance? Celiac disease? Diarrhea? Constipation? In addition, two questions were used as proxies for daytime enuresis and for encopresis: "Has he/she during daytime wet himself/herself on several occasions after the age of five?" and Has he/she soiled himself/herself on several occasions after the age of four, except during gastroenteritis?
Study Groups
(a) The NDD group included children whose scores reached the high cut-offs for ASD and/or ADHD and/or LD. In this group, the total number of children was 1021 [21% MZ twins, 672 (66%) boys and 349 (34%) girls]. Within this group, analyses of mutually exclusive separate diagnoses (ASD: 91 children, ADHD: 377 children and LD: 294 children) as well as by different constellations of several NDD diagnoses were conducted (ASD and ADHD n = 108, ASD and LD n = 50, ADHD and LD n = 49 and finally ASD and ADHD and LD n = 52). (b) The comparison group included children whose scores did not reach the low cut-offs in any of the ASD, ADHD or LD domains. This population consisted of 22,028 children (29% MZ twins, 10,653 (48%) girls and 11,375 (52%) boys). Categories are summarized in Fig.
1
.
×
Analyses
Statistical Analyses
Statistical analyses were performed using SPSS version 21. The Pearson Chi square or the Fisher´s exact tests were used to test for statistical significance between the prevalences of defined physical problems in groups and subgroups. P-values < 0.05 were considered statistically significant. Odds ratios (ORs), which were calculated from descriptive statistics, cross-tabulations, and by clicking risk and Cochran's and Mantel-Haenzsel statistics in SPSS, were reported with 95% confidence interval. Figures were graphed using GraphPad Prism 7 software.
Results
Prevalence of Physical Problems in the General Population
In this population of 9 or 12 year-old children, asthma had the highest prevalence (14.2%), followed by daytime enuresis (7.4%), encopresis (4.0%), and migraine (3.5%). Of the GI problems, the most prevalent was constipation (8.4%) and lactose intolerance (5.9%) (Figs.
2
a–f,
3
a–f). All physical problems were more common among children who screened positive for any NDD than among their screen negative peers.
×
×
Prevalence of Physical Problems in the Groups with a Single NDD
Generally, children with NDDs had an elevated prevalence of most types of physical conditions, although not all of them reached statistical significance compared to the comparison group. The prevalence of physical problems in the defined groups is summarized in Figs.
2
a–f and
3
a–f, and detailed in the Supplementary material, Table 1.
Children who screened positive for a single NDD had significantly higher prevalences of epilepsy, diarrhea, constipation, daytime enuresis and encopresis (p < 0.001). For children with ASD, the OR of epilepsy and encopresis were the highest compared to comparison group, OR 9.9 for epilepsy and 12.1 for encopresis although prevalence of enuresis was the highest in the group (38.5%). Children who screened positive for LD only had significantly higher risk of epilepsy (OR 15) and cancer (OR 3.9), even though asthma, celiac disease, diarrhea, constipation, daytime enuresis and encopresis were also significantly more common than among controls. ADHD was associated with epilepsy, asthma, lactose intolerance, diarrhea, constipation, daytime enuresis and encopresis (p < 0.001) (supplementary material).
Prevalence of Physical Problems in the Groups with Multiple NDDs
Children with a constellation of two or three NDDs more often reported physical problems than children with one NDD. However, there were no differences in the prevalence of physical problems between children with two versus all three NDDs. Some of the NDD constellations were associated with markedly increased prevalence of some specific physical problems. For example, children diagnosed with ASD and LD had an over 36 times increase in the prevalence of epilepsy (Fig.
2
a, OR 36.2), six times increase in the prevalence of constipation (Fig.
3
d, OR 6.2), almost 14 times increased prevalence of daytime enuresis (Fig.
3
.d, OR 13.8), and over 17 times increased prevalence of encopresis (Fig.
3
.e, OR 17.8). The coexistence of ASD and ADHD increased the odds for epilepsy (Fig.
2
.a, OR 5.2) migraine (Fig.
2
b, OR 3.2), asthma (Fig.
2
c, OR 2.6), cancer (Fig.
2
d, OR 5.2), diarrhea (Fig.
3
c, OR 6.0), constipation (Fig.
3
d, OR 3.4), daytime enuresis (Fig.
3
e, OR 6.6), and encopresis (Fig.
3
f, OR 10.4). In the group of children who were screen-positive for both ADHD and LD, the prevalence of diabetes was 15 times increased (Fig.
2
e, OR 15.9) compared to the comparison group.
Discussion
Clinical implications
It is known that comorbid physical conditions alter developmental trajectories (Hedvall et al.
2015
). In agreement with the ESSENCE concept (Gillberg
2010
,
2014
) highlighting the significant amount of overlap across NDDs (Gillberg
2010
), we recommend heightened awareness of the need for full medical/physical clinical examinations of children with NDDs.
We also recommend healthcare workers to specifically ask about GI problems and daytime enuresis as well as encopresis since these problems may be widespread in children with NDDs, causing medical and major social problems for the children and their families (Butler and Heron
2008
). We also believe that it is of clinical importance to focus on all the different constellations of NDDs since our results indicate that these may be differently associated with physical problems.
Conclusions
Children with ASD, ADHD and/or LD have a high prevalence of physical comorbidities such as epilepsy, migraine, asthma, GI complications and incontinence.

Our results indicate possible association between physical problems and constellations of NDDs as compared to single NDD diagnoses.
Strengths and Limitations
Our study should be interpreted in the context of some strengths and limitations. The data are based on parental reports on psychiatric and physical problems and not on clinical assessment of the children, which is an obvious limitation. NDDs were assessed as proxy diagnoses using an instrument that was developed and validated for the purpose, the A-TAC (Hansson et al.
2005
; Larson
2013
; Larson et al.
2010
,
2013
). Regarding physical problems, simple questions have been used to detect the existence of these problems. This means that we did not have access to data that could disentangle and specify different subcategories of each problem type/diagnosis such as subtypes of epilepsy or of migraine. Previous validation studies have shown that simple questionnaires can be sufficient for screening purposes of at least some physical problems on population level (Gervil et al.
1998
).
Our study population consisted of twins. Many twins are born preterm and there is an established association between prematurity and NDDs. However, although we did not correct for prematurity, we did not find a higher prevalence of NDDs (ASD 1.1%, ADHD, 2.1% and LD 1.6%) in our twin register similar to previous studies on twins (Croen et al.
2002
; Hallmayer et al.
2002
; Hultman et al.
2002
). The strengths of our study are the very large study population and that it is systematically derived from the general population. The overlap between two conditions can be causative in either direction or due to shared susceptibility factors. It was beyond the scope of this article to investigate such confounding factors, e.g. pre-, peri- and postnatal factors in autism (Hisle-Gorman et al.
2018
) or shared heritability.
Compliance with Ethical Standards
Competing interest
The authors declare that they have no conflicts of interest.
Ethical approval
The CATSS 9/12 study is based on voluntary, informed consent participation and has ethical approval from the Karolinska Institute Ethical Review Board: Dnr 03-672 and 2010/507-31/1.
Open Access
This article is distributed under the terms of the Creative Commons Attribution 4.0 International License (
http://​creativecommons.​org/​licenses/​by/​4.​0/​
), which permits unrestricted use, distribution, and reproduction in any medium, provided you give appropriate credit to the original author(s) and the source, provide a link to the Creative Commons license, and indicate if changes were made.