10-09-2019 | Uitgave 1/2020 Open Access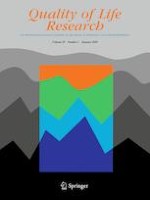 Personality types and subjective well-being among people living with HIV: a latent profile analysis
Tijdschrift:
Auteurs:

Marcin Rzeszutek, Ewa Gruszczyńska
Belangrijke opmerkingen
Publisher's Note
Springer Nature remains neutral with regard to jurisdictional claims in published maps and institutional affiliations.
Introduction
Current study
In line with the reasoning set out above, the aim of our study was threefold. First, we wanted to verify whether the most often recognised three types of personality (i.e. resilient, undercontrolled and overcontrolled) could also be identified among the clinical sample of PLWH. Additionally, we investigated if there are differences in Big Five personality traits between PLWH and the Polish general population. Second, we examined which sociodemographic and clinical variables are significantly associated with the obtained personality types. Finally, we tested if these types of personality are related to the subjective well-being (i.e. satisfaction with life and positive and negative affects), after controlling for sociodemographic and clinical correlates.
Method
Participants and procedure
Participants were recruited from the State Hospital of infectious diseases outpatient clinic. The following eligibility criteria were implemented: 18 years of age or older, confirmed medical diagnosis of HIV+ and having received antiretroviral treatment in the clinic where the study was organised. The exclusion criteria were HIV-related cognitive disorders, as screened by medical doctors. Of the 843 patients eligible for the study, 72 declined to participate, which gives a participation rate of 91%. Thus, 771 adults with a medically confirmed diagnosis of HIV infection provided informed consent to participate in the study. After the informed consent was obtained, the study participants completed a paper version of the questionnaires. The study was approved by the local ethics commission. One person was excluded from the final dataset due to high percentage of missing answers. Table
1
describes sociodemographic and clinical characteristics for the final sample of 770 participants in detail.
Table 1
Sociodemographic and clinical variables in the studied sample (
N
= 770)
Variable

Gender

Male

599 (77.8%)

Female

171 (22.2%)

38.58 ± 10.31

Marital status

In relationship

440 (57.1%)

Single

330 (42.9%)

Education

Elementary

33 (4.3%)

Basic vocational

79 (10.3%)

Secondary

270 (35.1%)

University degree

388 (50.4%)

Employment

Full employment

548 (71.2%)

Unemployment

101 (13.1%)

Retirement

24 (3.1%)

Sickness Allowance

97 (12.5%)

Financial status (from 1 = very low to 5 = very high)

2.50 ± 0.94

Sexual orientation

Heterosexual

282 (36.6%)

Homosexual

413 (53.6%)

Bisexual

75 (9.7%)

Place of infection

Home country

694 (90.1%)

Abroad

76 (9.9%)

Mode of infection

Sex with men

525 (68.2%)

Sex with women

85 (11.0%)

Drugs

97 (12.6%)

Medical procedures

8 (1.0%)

Others

54 (7.0%)

HIV/AIDS status

HIV+ only

629 (81.7%)

HIV/AIDS

140 (18.2%)

HIV infection duration in years (

M

 ± SD)

8.07 ± 7.57

Antiretroviral treatment duration in years (

M

 ± SD)

6.27 ± 5.86

504.63 ± 238.65

Viremia

Detectable

193 (25.1%)

Undetectable

518 (67.3%)

Don't know

58 (7.5%)

Addiction

Yes

117 (15.2%)

No

653 (84.8%)
Measures
Personality dimensions
Personality was measured using the NEO-Five Factor Inventory (NEO-FFI) proposed by Costa and McCrae [
35
]. The NEO-FFI consists of 60 items (12 per trait), and participants respond to each item on a five-point scale from 0 (strongly disagree) to 4 (strongly agree). Higher summarised scores imply higher levels of each trait. The Cronbach's alpha coefficients for the current study were .82 for neuroticism (N), .69 for extraversion (E), .61 for openness to experience (O), .71 for agreeableness (A) and .53 for conscientiousness (C). The Cronbach's alpha obtained in the official adaptation of NEO-FFI [
36
] in the general Polish sample were .80 for neuroticism (N), .77 for extraversion (E), .68 for openness to experience (O), .68 for agreeableness (A) and .82 for conscientiousness (C).
Subjective well-being indicators
Subjective well-being was evaluated using the Satisfaction with Life Scale [SWLS;
37
] together with the Positive and Negative Affects [PANAS-X;
38
], according to the conceptualisation proposed by Diener. He defined subjective well-being as individual cognitive and affective evaluations of person's own life [
39
]. The SWLS measures overall satisfaction with life. It is composed of five items on a seven-point scale ranging from 1 (strongly disagree) to 7 (strongly agree). Thus, a higher total score indicates higher level of life satisfaction. Cronbach's alpha coefficient in the studied sample was .87. The affective component of subjective well-being describes an experience of longer-lasting emotional responses, including both positive and negative affects. Thus, 20 descriptions of feelings and emotions from the PANAS-X were used: 10 for positive affect (e.g. 'proud', 'excited') and 10 for negative affect (e.g. 'depressed', 'stressed'). Participants rated their answers on a five-point response scale from 1 (not at all) to 5 (strongly). The Cronbach's alpha coefficients obtained in this study were .86 for the positive affect scale and .91 for the negative affect scale.
Data analysis
A comparison between the general population and PLWH on every Big Five personality dimension was made with the one-sample
t
test. Next, we used latent profile analysis to the identified types of people who are at the same time highly similar on personality traits within their group and highly dissimilar across the groups [
40
]. Analysis was performed on standardised values (
z
-scores), with reverse values for N to facilitate interpretation, which in such case should be understood as emotional stability [ES; see
5
]. Models from one- to five-profile solutions were examined; as there have been only a few studies on clinical samples, the optimal solution could be different from the most popular in the healthy populations (i.e. three personality profiles).
To choose between competing models, we used a variety of indicators. For Akaike's information criterion (AIC), Bayesian information criterion (BIC) and the sample-size adjusted BIC (SABIC), the lowest values indicate a model with the best fit [
41
]. The Vuong–Lo–Mendell–Rubin likelihood ratio test (VLMR) and the adjusted Lo–Mendell–Rubin likelihood ratio test (LMR) directly compare neighbouring
k
 − 1 and
k
profile models; significant
p
-values suggest that the
k
profile model fits the data better than a model with one profile less [
42
]. Entropy is an index of classification accuracy, and values closer to 1 indicate better profile separation [
43
]. Finally, a size of the smallest profile is a practical criterion since a profile covering less than 5% of the sample may be hard to replicate. However, in clinical samples, even such small-size profiles may reflect rare but meaningful subgroups; thus the final decision on a number of profiles should be based on thorough inspection.
After establishing a number of profiles (here personality types), a bias-adjusted three-step procedure [
43
] was used for both testing their significant correlates (auxiliary variables; maximum likelihood method) and relationship with distal outcomes in terms of SWB dimensions (Bayesian hierarchical clustering method) [
43
]. Additionally, since this automatic procedure does not allow directly for control of correlates when examining the profile membership as a predictor of SWB, we repeated it manually as recommended by Asparouhov and Muthén [
44
]. Namely, after establishing profile membership in step 1, we specified the posterior profile membership probability as logistic function of the correlates in step 2; [
44
] and such values were used then in further analysis of relationship with distal outcomes. Thus, they can be interpreted as adjusted analysis controlled for the potential sociodemographic and clinical confounders. The analyses were performed by means of IBM SPSS Statistics version 25 [
45
], Mplus version 8.2 [
46
] and Latent Gold version 5.1.0.19007.
Results
Discussion
Strengths and limitations
This study has several strengths, including a large size of clinical sample, two methods of standardisation (i.e. sample and population) and the person-oriented approach to personality. However, a few limitations should also be noted. Firstly, the cross-sectional design precludes causal interpretations. Secondly, our sample was composed mostly of highly functioning PLWH, with unequal distribution of gender and sexual orientation (mostly homosexual men and heterosexual women). However, this specific gender and sexual distribution reflects the current distribution of these variables among PLWH in Poland [
53
] and in most European countries [
54
]. Also, it should be mentioned that we obtained relatively low reliability of the NEO-FFI subscales, which could be related to the sample specificity. Finally, due to ethical and legal issues related to data protection (i.e. third-party access to medical records), we based our analysis only on self-reported clinical variables.
Conclusion
Identifying personality types in clinical settings enables more comprehensive understanding of interrelations between personality and health [
15
,
16
]. However, additional studies are required to determine whether these types of personality are universal as well as why some studies failed to extract them or obtain types that do not entirely resemble those reported in the literature [
8
], which was also the case of our study. Concerning PLWH, the typological approach to the study of personality may clarify many ambiguous results devoted to the role of personality traits across various aspects of functioning of PLWH, including the issue of well-being of these patients.
Acknowledgements
This study was founded by the National Science Center, Poland (Research Project No. 2016/23/D/HS6/02943).
Compliance with ethical standards
Conflict of interest
The corresponding author declares that he has no conflicts of interest. The second author declares that she has no conflicts of interest.
Ethical approval
All procedures performed in studies involving human participants were in accordance with the ethical standards of the institutional and/or national research committee and with the 1964 Helsinki declaration and its later amendments or comparable ethical standards.
Open Access
This article is distributed under the terms of the Creative Commons Attribution 4.0 International License (
http://​creativecommons.​org/​licenses/​by/​4.​0/​
), which permits unrestricted use, distribution, and reproduction in any medium, provided you give appropriate credit to the original author(s) and the source, provide a link to the Creative Commons license, and indicate if changes were made.
Publisher's Note
Springer Nature remains neutral with regard to jurisdictional claims in published maps and institutional affiliations.