09-05-2018 | Review Article | Uitgave 6/2018 Open Access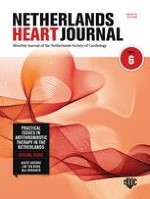 Periprocedural anticoagulation in atrial fibrillation: Update on electrical cardioversion and ablation
Tijdschrift:
Auteurs:

S. P. G. van Vugt, M. A. Brouwer
Electrical cardioversion for atrial fibrillation
For successful restoration of sinus rhythm in patients with atrial fibrillation (AF), electrical cardioversion (ECV) is a quicker and more effective strategy than pharmacological cardioversion, with the highest success rates in case of pretreatment with antiarrhythmic drugs [
1
–
5
]. However, the success rate should be weighed against the involved disadvantage of sedation, the need of fasting, and the procedure-related increase in stroke risk [
6
].
After the landmark AF trials with the non-vitamin K oral anticoagulants (NOACs), several randomised trials on ECV have been published [
7
–
9
]. The periprocedural use of the new agents is now addressed in more detail in the 2016 European AF guidelines [
3
]. For patients in whom cardioversion is performed within 48 hours of AF onset, the recommendations with regard to periprocedural anticoagulation have become less liberal over the years [
3
,
10
]. Notably, preprocedural anticoagulation is now recommended for all patients, irrespective of risk factors for stroke. The same holds true for the 4‑week postprocedural anticoagulation regimen. These recommendations pertain to both chemical and electrical cardioversion [
3
].
In addition to a short update of the most important changes, and a review of the NOAC-related regimens, we provide some practical guidance and information on daily practice of anticoagulation in the setting of cardioversion in Europe.
×
The evidence
Daily practice
From surveys in Europe, including the RHYTHM-AF registry, we have learned that our current practice of ECV has improved over the years [
1
,
36
,
37
]. The prescription of preprocedural antiarrhythmic drugs, which has been shown to improve success rates, still deserves attention [
3
]. Many centres experience an increase in the number of cardioversions per year, and at least 40% of the interviewed centres started implementing periprocedural use of NOACs [
37
]. Overall, estimates are that at present at least 25% of all cardioversions are performed on NOACs [
37
]. Little information is available on approaches that will ensure and control medication adherence, but as of yet the registry data on thrombo-embolic events are reassuringly low [
29
–
32
].
As for AF > 48 hours, the majority of centres (~70%) followed the mandatory 3‑week period of oral anticoagulation prior to elective cardioversion, and in the other centres a TEE-guided approach was adopted [
37
]. In this survey, performed before the latest guideline update, about a third of the centres already had a protocol with 4 weeks of post-cardioversion anticoagulation for AF < 48 hours, even when the embolic risk was low [
37
].
These surveys provide very informative insights into current developments and the areas in which we can still improve with regard to both antiarrhythmic and antithrombotic management in the setting of ECV.
Ablation therapy for atrial fibrillation
Conflict of interest
S.P.G. van Vugt has received consulting fees/honorariums from Bayer, Boehringer Ingelheim, Bristol-Meyers-Squibb/Pfizer and Daiichi Sankyo and M.A. Brouwer has received consulting fees/honorariums from AstraZeneca, Bayer, Boehringer Ingelheim, Bristol-Meyers-Squibb/Pfizer and Daiichi Sankyo.
Open Access
This article is distributed under the terms of the Creative Commons Attribution 4.0 International License (
http://​creativecommons.​org/​licenses/​by/​4.​0/​
), which permits unrestricted use, distribution, and reproduction in any medium, provided you give appropriate credit to the original author(s) and the source, provide a link to the Creative Commons license, and indicate if changes were made.