01-09-2014 | Original Article | Uitgave 9/2014 Open Access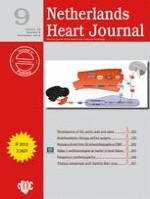 Perioperative cardiovascular complications versus perioperative bleeding in consecutive patients with known cardiac disease undergoing non-cardiac surgery. Focus on antithrombotic medication. The PRAGUE-14 registry
Tijdschrift:
Auteurs:

P. Widimský, Z. Moťovská, L. Havlůj, M. Ondráková, R. Bartoška, L. Bittner, L. Dušek, V. Džupa, J. Knot, M. Krbec, L. Mencl, J. Pachl, R. Grill, P. Haninec, P. Waldauf, R. Gürlich
Abstract
Background
Interruption of antithrombotic treatment before surgery may prevent bleeding, but at the price of increasing cardiovascular complications. This prospective study analysed the impact of antithrombotic therapy interruption on outcomes in non-selected surgical patients with known cardiovascular disease (CVD).
Methods
All 1200 consecutive patients (age 74.2 ± 10.2 years) undergoing major non-cardiac surgery (37.4 % acute, 61.4 % elective) during a period of 2.5 years while having at least one CVD were enrolled. Details on medication, bleeding, cardiovascular complications and cause of death were registered.
Results
In-hospital mortality was 3.9 % (versus 0.9 % mortality among 17,740 patients without CVD). Cardiovascular complications occurred in 91 (7.6 %) patients (with 37.4 % case fatality). Perioperative bleeding occurred in 160 (13.3 %) patients and was fatal in 2 (1.2 % case fatality). Multivariate analysis revealed age, preoperative anaemia, history of chronic heart failure, acute surgery and general anaesthesia predictive of cardiovascular complications. For bleeding complications multivariate analysis found warfarin use in the last 3 days, history of hypertension and general anaesthesia as independent predictive factors. Aspirin interruption before surgery was not predictive for either cardiovascular or for bleeding complications.
Conclusions
Perioperative cardiovascular complications in these high-risk elderly all-comer surgical patients with known cardiovascular disease are relatively rare, but once they occur, the case fatality is high. Perioperative bleeding complications are more frequent, but their case fatality is extremely low. Patterns of interruption of chronic aspirin therapy before major non-cardiac surgery are not predictive for perioperative complications (neither cardiovascular, nor bleeding). Simple baseline clinical factors are better predictors of outcomes than antithrombotic drug interruption patterns.