04-08-2016 | Artikel | Uitgave 4/2017 Open Access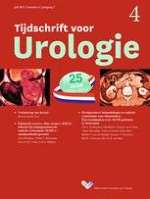 Perioperatieve behandelingen en radicale cystectomie voor blaaskanker. Een trendanalyse over 10.338 patiënten in Nederland
Tijdschrift:
Auteurs:

drs. Tom J. N. Hermans, drs. Elisabeth E. Fransen van de Putte, prof. dr. Simon Horenblas, dr. Valery Lemmens, dr. Katja Aben, dr. Michiel S. van der Heijden, dr. Laurens V. Beerepoot, dr. Rob H. Verhoeven, dr. Bas W. G. van Rhijn
Belangrijke opmerkingen
De auteurs R.H. Verhoeven, L.V. Beerepoot en B.W.G. van Rhijn hebben in gelijke mate aan dit manuscript bijgedragen.
Dit artikel werd eerder gepubliceerd onder de titel
Perioperative treatment and radical cystectomy for bladder cancer
–
a population based trend analysis of 10,338 patients in the Netherlands
. Indien u wenst te refereren gaarne altijd citeren: Eur J Cancer. 2016 Feb;54:18–26.
Samenvatting
Achtergrond
In Europa zijn epidemiologische data betreffende perioperatieve behandelingen (PB) en radicale cystectomie (RC) niet voorhanden. Wij onderzochten trends in de toepassing van neoadjuvante chemotherapie (NAC), neoadjuvante radiotherapie (NAR), adjuvante chemotherapie (AC) en adjuvante radiotherapie (AR) en RC in een bepaalde periode in Nederland. Tevens onderzochten wij patiënt- en ziekenhuisfactoren die geassocieerd waren met PB.
Methoden
In deze landelijke, retrospectieve studie werden alle patiënten uit de Nederlandse Kanker Registratie (NKR) geïncludeerd, die een RC met curatieve intentie ondergingen voor cTa/is, T1–4, N0–3, M0–1 blaaskanker (BK) tussen 1995 en 2013. De toepassing van PB in de loop van de tijd werd vergeleken met de uitkomst van Chi-kwadraattesten. Multivariabele logistische regressieanalyses werden uitgevoerd om karakteristieken te identificeren die zijn geassocieerd met PB. De subgroepen cT2–4, N0 of Nx, M0 of Mx en cT2–4N0M0 werden afzonderlijk geanalyseerd.
Resultaten
In totaal werden 10.338 patiënten geïncludeerd. 86 % onderging geen PB, 7,0 % ontving NAC (of inductiechemotherapie (IC)), 3,2 % NAR, 1,8 % AC en 2,1 % AR. De toepassing van NAC steeg van 0,6 % in 1995 naar 21 % in 2013 (
p
< 0,001), de toepassing van NAR daalde van 15 % naar 0,4 % (
p
< 0,001). AC en AR werden in 2013 in <1,5 % van de gevallen toegepast. Vergelijkbare trends werden gezien bij 6.032 cT2–4N0M0 BK-patiënten. Multivariabele logistische regressieanalyse toonde dat een lagere leeftijd, ≥cT3, ≥cN1 en behandeling in academische en opleidingsziekenhuizen geassocieerd waren met de toepassing van NAC (inclusief IC) (alle
p
< 0,05).
Conclusie
De stijging in de toepassing van NAC in de laatste twee decennia toont een langzame, maar gestage adaptatie van internationale richtlijnen in Nederland. Betreffende de toepassing van NAC bestaan er aanzienlijke variaties in patiënt- en ziekenhuiskarakteristieken. In tegenstelling tot NAC worden NAR, AR en AC nauwelijks (meer) toegepast.