02-08-2015 | Original Article | Uitgave 6/2015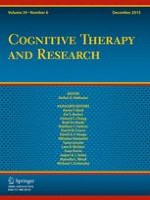 Perfectionism as a Predictor of Suicidal Risk in Turkish College Students: Does Loneliness Contribute to Further Risk?
Tijdschrift:
Auteurs:

Mine Muyan, Edward C. Chang
Abstract
In the present study, we examined perfectionism and loneliness as predictors of suicidal risk (viz., depressive symptoms & suicide ideation) in a sample of 288 (170 females and 118 males) Turkish college students. Results of conducting hierarchical regression analyses indicated that certain dimensions of perfectionism, namely, doubts about actions and parental criticism, accounted for significant variance in both depressive symptoms and suicide ideation. The inclusion of loneliness as a predictor was found to predict additional unique variance in both suicidal risk measures, beyond what was accounted for by perfectionism. Results of predicting suicide ideation, controlling for depressive symptoms, indicated that parental criticism was the only significant perfectionism dimension to emerge. However, loneliness continued to account for a significant amount of additional unique variance. Some implications of the present findings for understanding suicidal risk in Turkish students are discussed.