01-09-2010 | Original article | Uitgave 9/2010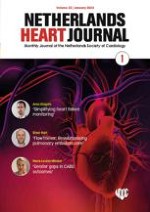 Percutaneous mitral valve repair using the edge-to-edge technique in a high-risk population
Tijdschrift:
Auteurs:

B. J. L. Van den Branden, M. C. Post, M. J. Swaans, B. J. W. M. Rensing, F. D. Eefting, H. W. M. Plokker, W. Jaarsma, J. A. S. der Van Heyden
Belangrijke opmerkingen
Department of Cardiology, St. Antonius Hospital, Nieuwegein, the Netherlands
Abstract
Background
. Percutaneous mitral valve (MV) repair using the edge-to-edge clip technique might be an alternative for patients with significant mitral regurgitation (MR) and an unacceptably high risk for operative repair or replacement. We report the short-term safety and efficacy of this new technique in a high-risk population.
Methods
. All consecutive high-risk patients who underwent percutaneous MV repair with the Mitraclip
®
between January and August 2009 were included. All complications related to the procedure were reported. Transthoracic echocardiography for MR grading and right ventricular systolic pressure (RVSP) measurement were performed before, and at three and 30 days after the procedure. Differences in NYHA functional class and quality of life (QoL) index were reported.
Results
. Nine patients were enrolled (78% male, age 75.9±9.0 years, logistic EuroSCORE 33.8±9.0%). One patient developed inguinal bleeding. In one patient partial clip detachment occurred, a second clip was placed successfully. The MR grade before repair was ≥3 in 100%, one month after repair a reduction in MR grade to ≤2 was present in 78% (p=0.001). RVSP decreased from 43.9±12.1 to 31.6±11.7 mmHg (p=0.009), NYHA functional class improved from median 3 (range 3 to 4) to 2 (range 1 to 4) (p=0.04), and QoL index improved from 62.9±16.3 to 49.9±30.7 (p=0.12).
Conclusion.
In high-risk patients, transcatheter MV repair seems to be safe and a reduction in MR can be achieved in most patients, resulting in a short-term improvement of functional capacity and QoL. (Neth Heart J 2010;18:437-43.)