01-12-2016 | casus | Uitgave 5-6/2016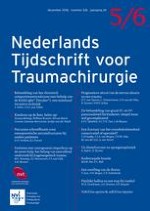 Percutane schroeffixatie voor osteoporotische sacrumfracturen bij oudere patiënten
Tijdschrift:
Auteurs:

drs. D.O. Verbeek, dr. K.J. Ponsen
Belangrijke opmerkingen
1 traumachirurg, afdeling Traumachirurgie, Erasmus Medisch Centrum, Rotterdam
2 traumachirurg, afdeling Heelkunde, Medisch Centrum Alkmaar, Alkmaar
Samenvatting
Een sacrumfractuur na een laagenergetisch trauma met een voorste bekkenringfractuur dat wordt gemist, kan zeer moeizame mobilisatie tot gevolg hebben of mobilisatie onmogelijk maken. In dit artikel beschrijven wij onze ervaringen met percutane sacro-iliacale schroeffixatie bij twee oudere patiënten met (gemiste) osteoporotische sacrumfracturen. Wij concluderen dat een ogenschijnlijk 'geïsoleerde' voorste bekkenringfractuur ook bij oudere patiënten nauwgezette analyse verdient naar een eventuele begeleidende achterste bekkenringfractuur, vooral bij pijn ter plaatse van het sacrum of laag in de onderrug. Bij aanwezigheid van een sacrumfractuur zou bij zorgvuldig geselecteerde patiënten tijdige percutane SI-schroeffixatie overwogen moeten worden om vroege mobilisatie te bevorderen.