01-01-2009 | Original Article | Uitgave 1/2009 Open Access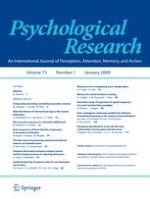 Perceptual identification across the life span: a dissociation of early gains and late losses
Tijdschrift:
Auteurs:

Florian Waszak, Werner X. Schneider, Shu-Chen Li, Bernhard Hommel
Belangrijke opmerkingen
Note added in proof
This study is part of the CoOP-MIND Study, a collaborative research project (investigating the CoOperation and intercorrelation between a broad class of elementary Perceptual and cognitive processes, such as Memory, visual search, and choice reactions, and psychometrically defined INtellectual abilities across life span Development) between the Max Planck Institute for Human Development and the Max Planck Institute for Psychological Research. In addition to the authors who were directly involved in the present study, other members of the research project are G. Aschersleben, F. Miedreich, and W. Prinz from the Max Planck Institute for Psychological Research and P. B. Baltes and U. Lindenberger from the Max Planck Institute for Human Development. We thank Annette Rentz-Lühning and many other student assistants for help in collecting the data.
Open Access
This article is distributed under the terms of the Creative Commons Attribution Noncommercial License which permits any noncommercial use, distribution, and reproduction in any medium, provided the original author(s) and source are credited.
Abstract
The age-correlated gains and losses in visual identification under backward pattern masking were studied in a representative sample of 226 individuals ranging from 6 to 88 years of age. Participants identified masked symbols at leisure under high and low stimulus quality and at varying Stimulus Onset Asynchronies. Performance increased from childhood to early adulthood and then decreased, describing the common inverted U-shaped function. However, measures of general processing speed accounted for the gains in childhood and adolescence but not for losses in older age. This asymmetry between child development and aging is inconsistent with general-factor lifespan theories of cognitive development and suggests that specific mechanisms underlying visual identification during child development and aging are different.