01-12-2013 | Uitgave 10/2013 Open Access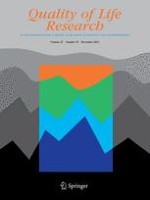 Perception of health-related quality of life in children with chronic kidney disease by the patients and their caregivers: Multicentre national study results
Tijdschrift:
Auteurs:

Katarzyna Kiliś-Pstrusińska, Anna Medyńska, Irena Bałasz Chmielewska, Ryszard Grenda, Agnieszka Kluska-Jóźwiak, Beata Leszczyńska, Julita Niedomagała, Ilona Olszak-Szot, Monika Miklaszewska, Maria Szczepańska, Marcin Tkaczyk, Agnieszka Urzykowska, Anna Wasilewska, Katarzyna Zachwieja, Maria Zajączkowska, Helena Ziółkowska, Ilona Zagożdżon, Danuta Zwolińska
Introduction
Therefore, the main goal of the present study was to analyse HRQoL in Polish children with CKD depending on the stage and treatment for CKD, and some life situation elements in their families. Furthermore, potential differences between patient- and parent/proxy reports and the factors influencing them were assessed. It was anticipated that the study would help to understand the impact of CKD on the functional health status of children and to determine if, when and how to support CKD patients in order to improve their quality of life.
Methods
Participants
Eleven out of 12 paediatric nephrology centres in Poland offering care for children with CKD participated in a cross-sectional study. The study was conducted among patients and their parent/proxies between September and December 2011. The study protocol adhered to the Declaration of Helsinki and was approved by the Ethics Committee of Wroclaw Medical University. Written informed consent was obtained from all children over 16 years and all the parents. Verbal assent was obtained from patients under 16 years of age when possible.
Inclusion criteria for children are as follows: (1) over 2 years of age, (2) stage II of CKD or higher according to KDOQI [
21
] based on the estimated glomerular filtration rate (eGFR) by the Schwartz formula [
22
], (3) CKD diagnosed at least 3 months prior to the begin of the study and (4) informed consent. Exclusion criteria for children are as follows: (1) history of severe to profound mental retardation, (2) renal, other solid-organ, bone marrow or stem cell transplantation, (3) cancer/leukaemia diagnosis, (4) hospitalization within 14 days (with the exception of a hospital stay for HD or PD), (5) initiation or change of dialysis modalities within the past 30 days and (6) a significant life event unrelated to their kidney disease in the past 30 days, such as losing a family member.
The patients were divided into 3 groups based on the treatment modality: conservative treatment (CT), haemodialysis (HD) or peritoneal dialysis (PD).
Methods
The study was performed in two steps. Step I. A medical chart review was performed to obtain the following information: primary diagnosis of kidney disease, patient's age at CKD diagnosis, duration of the illness, time of nephrology care, additional non-renal comorbidities, place of living and the distance from a nephrology centre and family history. Additionally, school-age children and their parents were interviewed about schooling level and special education requirements (supplementary tutoring or an individualized education programme). Analysed data for parents were age, education, job type, care of the sick child (main caregiver/"second" parent) as well as the family structure: parents/single parent, siblings/only child. "Second parent"—we used this term to describe the parent who spends less time taking care of a sick child.
Step II. To assess the HRQoL in children, we used the PedsQL 4.0 Generic Core Scales [
19
,
20
,
23
]. We received the user agreement from Christelle Berne, Mapy Research Institute in Lyon, France. The tests were designed according to the general protocol and administration guidelines. This measure comprises child report (5–18 years of age) and parent report (2–18 years of age) of the child's HRQoL. The 23-item version of PedsQL was used for children 5–18 years of age and for their parents. The 21-item version was used only for the parents of children 2–4 years of age. The PedsQL assesses physical (8 items), emotional (5 items), social (5 items) and school/nursery school (5/3 items) functioning in adolescents and children. For children 8–18 years of age and parent/proxy report formats, items are rated on a 5-point ordinal scale to indicate the problems children encounter in various areas of functioning, ranging from 0 (never) to 4 (almost always). For younger children, the ordinal scale is reworded and simplified to a 3-point scale: 0 (not at all a problem), 2 (sometimes a problem) and 4 (a lot of problem). From the sum of the raw scores from the 23 (or 21) items, a summary score ranging from 0 to 100 can be calculated, with higher scores indicating higher HRQoL. The results obtained by main caregivers and the "second" parents were analysed separately.
Statistical analyses
Means, standard deviations, medians, quartiles, frequencies and percentages were reported to describe the data as appropriate. Quantitative variables were tested for normality of the distribution using the Kolmogorov–Smirnov test. The Mann–Whitney test, the Student's
t
test and the Kruskal–Wallis test were used, to compare the different studied groups. The means of PedsQL from the three groups (CT, PD and HD) were compared with a sample of healthy children reported by Varni et al. [
19
] using Student's
t
test. Qualitative variables were presented as numbers and percentages. The chi-squared test or Fisher's exact test was used for comparison between groups. Univariate analyses were carried out in order to determine what independent variables were associated with children`s scores. Next, multivariate analysis was conducted to evaluate the relationship between the PedsQL domain scores and variables that were found to be associated in the univariate analyses or supported by practice observations. Statistical analyses were performed using R for Windows, version 2.15.1 (The R Foundation for Statistical Computing, Vienna, Austria) and MedCalc for Windows, version 12.3.1.0 (MedCalc Software, Mariakerke, Belgium). A
p
value of <0.05 was considered statistically significant.
Results
A total of 203 children with CKD were enrolled into this study. Data from 388 of their parent/proxies (196 women and 192 men) were taken into consideration. The characteristics of patients and their parent/proxies are provided in Tables
1
,
2
. About 30 % of school children were tutored and the remaining children received universal education. Among the PD children, the patients were tutored at home in 55.2 % of the cases, versus 66.7 % of HD patients, versus 17.4 % of patients treated conservatively. A statistically significant difference in learning methods was demonstrated only between CT patients and children on dialysis (
p
= 0.01).
Table 1
Basic characteristics of CKD children
Parameter

%

Age, mean ± SD (years)

10.95 ± 4.95

Female

80

39

Male

123

61

Chronic glomerulonephritis

32

15.8

Anomaly of kidney and urinary tract

102

50.3

Hereditary kidney disease

34

16.7

Others

23

11.3

Unknown cause

12

5.9

Yes

34

16.8

No

169

83.2

Yes

27

13.3

No

176

87.7

Place of residence (size)

Village and town <50, 000 inhabitants

88

43.4

Town 50, 000–100, 000 inhabitants

51

25.1

Town >100, 000 inhabitants

64

31.5

Age of CKD diagnosis, median (quartiles) (years)

2.02 (0.17; 8.0)

CKD duration, mean ± SD (years)

6.91 ± 4.8

Duration of nephrology care (years)

6.41 ± 4.52

Conservative treatment

137

67.5

CKD stage 2

30

22

CKD stage 3

58

42

CKD stage 4

40

29

CKD stage 5

9

7

Haemodialysis

25

12.3

Peritoneal dialysis

41

20.2
Table 2
Basic characteristics of parents and family of CKD children
Parameter

%

Mothers

196

100

Age, mean ± SD (years)

37.97 ± 6.74

Elementary/trade school

87

44.4

High school

72

36.7

University degree

37

18.9

Yes

129

61.2

No

67

38.8

Yes

165

83.3

No

31

16.7

Fathers

192

100

Age (mean ± SD) (years)

40.91 ± 7.39

Elementary/trade school

124

64.6

High school

42

21.9

University degree

26

13.5

Yes

165

86

No

27

14

Yes

164

85.4

No

28

14.6

Full

175

86.2

Single-parent family

25

13.8

Mother

175

87.5

Father

19

9.5

Both parents

6

3.0

Yes

163

80.3

No

40

19.7
The PedsQL test results are presented in tables and include the size of the studied groups. The differences in group size stem from the properties of the PedsQL test (child report for children aged 5–18, parent/proxies report for children 2–18 years of age). Results of missing or incomplete tests were discarded.
HLQoL scores for all CKD groups were significantly lower in all domains compared with international population norms for healthy children (
p
< 0.0001). We are aware the best effects would bring comparing the Polish CKD children results to Polish norms. However, there are no such norms for Polish or even European children. Hence, there is a need of very cautions interpretation of the results. It should be stated that the norms conducted by Varni et al. [
19
] are based on a large number of studied subjects, which allows to conclude that the influence of socio-demographic factors was notable reduced.
Statistically significant differences were also indicated between groups of children with CKD identified according to the method of treatment (Table
3
-A). Patients treated with dialysis assessed their physical and social functioning lower than patients treated conservatively. No differences were found in this respect based on the type of dialysis. There were no differences between all groups of patients in their perception of emotional and school functioning. However, a tendency to lower assessment in the last domain was evident in the HD group when compared with the other children. The HD patients obtained significantly lower overall HRQoL scores than those treated conservatively or with PD. CT children did not differ significantly in terms of the overall HRQoL, nor did they differ in the results of the individual subscales, dependent on the stage of CKD (Table
3
-A).
Table 3
PedsQL 4.0 generic core scales from: (A). CKD child self-report, (B). parent/proxy reports (main caregivers), (C). "second" parent/proxy reports
Physical functioning

Emotional functioning

Social functioning

School functioning

Overall HRQoL

78.13 (63.28−7.5)

65.0 (55.0−80.0)

80.0 (60.0−90.5)

65.0 (50.0−75.0)

71.74 (58.15−80.98)

78.13 (60.94−87.50)

65 (55−77.5)

80.0 (60−100)

65.0 (50−80)

69.02 (57.07−81.52)

78.13 (65.63−84.38)

65.0 (55−80)

80.0 (65−93.75)

65.0 (55−70)

72.83 (60.87−79.08)

40.63 (18.75−65.63)

52.5 (35.0−75.0)

67.5 (50.0−80.0)

47.5 (35.0−65.0)

50.54 (40.22−64.13)

62.5 (50.0−75.0)

70.0 (56.25−73.75)

70.0 (50.0−90.0)

62.5 (50.0−75.0)

64.13 (51.09−75.0)

0.11

0.07

(B). Parents/main caregivers,

n

= 201

CT, n = 136

75.00 (53.13−84.38)

65.0 (51.25−75.0)

75.0 (60.0−93.75)

60.0 (45.0−70.0)

66.3 (51.63−76.09)

75.00 (50.0–87.5)

65.0 (55.0–80.0)

75.0 (60.0–95.0)

60.0 (45.0−70.0)

67.94 (51.09−78.26)

71.88 (58.59–81.25)

60.0 (50.0–70.0)

70.0 (55.0–86.25)

55.0 (45.0–65.0)

65.22 (54.08–75.0)

51.56 (20.31–68.75)

50.0 (37.5–65.0)

62.5 (45.0–85.0)

40.0 (35.0–60.0)

49.46 (40.22–62.5)

56.24 (40.63–62.5)

55.0 (40.0–70.0)

55.0 (40.0–70.0)

55.0 (35.0–65.0)

54.35 (38.87–64.13)

(C). "Second" parents

n

= 84

75.00 (56.25–84.38)

60.0 (53.75–80.0)

80.0 (63.75–95.0)

65.0.0 (50.0–75.0)

66.67 (53.26–79.62)

78.13 (56.26–84.38)

65.0 (60.0–80.0)

80.0 (70.0–95.0)

70.0 (50.0–75.0)

69.05 (59.5–80.44)

CKD 4–5, n = 22

71.88 (53.13–81.25)

55.0 (45.0–60.0)

72.5 (60.0–80.0)

60.0 (50.0–75.0)

65.76 (50.0–73.91)

53.13 (41.41–67.97)

55.0 (41.25–68.75)

65.0 (56.25–80.0)

55.0 (40–65)

56.53 (49.18–63.04)

0.09

0.08
In the entire group of patients and in all subgroups determined by treatment methods, no significant relationship was noted between the individual components of the PedsQL test and CKD duration. No differences were indicated in the perception of the overall HRQoL and all its components based on age, age of CKD diagnosis, primary kidney disease, time of nephrology care, the size of place of residence, the distance from a nephrology centre, the type of education provided, parent`s education level and father`s employment. Male gender (in comparison with female gender) and mother's employment were associated with higher physical functioning score (median value, quartiles: 75.0; 59.36–87.5 vs. 68.75; 40.63–82.03,
p
= 0.03; and 75.56; 60.94–87.5 vs. 68.75; 47.6–81.25,
p
= 0.02, respectively). Children from two-parent families reported better social functioning (68.0; 55.0–80.0) and observed higher overall QoL (68.93; 55.43–78.26) than children from single-parent families (63.0, 50.0–75.0,
p
= 0.02; 65.5, 51.0–79.34,
p
= 0.03, respectively). In a multivariate analysis, only connection between gender, mother's employment and physical domain of PedsQL (coefficient 7.97, std. error 4.02,
p
= 0.05 and coefficient 8.85, std. error 4.04,
p
= 0.03, respectively) were found.
The main caregivers' perception of the overall HRQoL and particular types of functioning in children with CKD was statistically significantly different dependent on CKD treatment methods (Table
3
-B). The parents of CT children rated their quality of life much higher, including the individual subscales, in comparison with parents of children treated with HD as well as the parents of children treated with PD. The only exception formed the school functioning. It was determined that the parents of the HD children reported lower total scores not only when compared with the parents of children treated conservatively, but also with PD. Evaluations by the parents of the HD and PD children were not significantly different in partial subscales. The second parents of children treated conservatively rated physical functioning and overall HRQoL higher than the parents of dialysis patients. There were no differences in the other subscales (Table
3
-C).
The main caregivers of CT patients did not differ in the perception of HRQoL of their children based on the stage of CKD (Table
3
-B) as opposed to the "second parents" who rated emotional functioning in children at stages 2, 3 much higher than at stages 4, 5 (Table
3
-C).
Overall, HRQoL and other subscale evaluation by children (the all CKD group) and their primary caregivers varied. In the CT group, the lower rating among the parents pertained to the overall HRQoL and its subscales with the exception of emotional functioning. In the HD group, no significant differences were demonstrated. In the PD group, the parents' lower scores were observed in the overall HRQoL of the children, emotional functioning as well as physical and social functioning (Table
4
).
Table 4
Comparison between PedsQL 4.0 generic core scales from child self-report and parent/proxy reports (main caregivers)
Characteristic

CT

HD

PD

Total

Parent/proxy

Child

Child

78.13 (63.28–87.5)

40.63 (18.75–65.63)

62.5 (50.0–75.0)

71.88 (53.13–84.38)

Parent/proxy

75.0 (52.34–84.38)

51.56 (21.88–68.75)

56.25 (43.75–63.28)

65.63 (46.88–81.25)

0.73

Child

65.0 (55.0–80.0)

52.5 (35.0–75.0)

70.0 (58.75–71.25)

65 (55–80)

Parent/proxy

65.0 (50.0–75.0)

52.5 (40.0–65.0)

55.0 (40.0–70.0)

60 (45–70)

0.09

0.7

Child

80.0 (60.0–95.0)

67.5 (50.0–80.0)

70.0 (50.0–90.0)

77.5 (60.0–95.0)

Parent/proxy

72.5 (55.0–90.0)

62.5 (45.0–90.0)

55.0 (40.0–70.0)

70.0 (50.0–90.0)

0.82

Child

65.0 (50.0–75.0)

47.5 (35.0–65.0)

60.0 (50.0–75.0)

65.0 (46.25–75.0)

Parent/proxy

55.0 (45.0–70.0)

40.0 (35.0–60.0)

55.0 (35.0–65.0)

55. (40.0–65.0)

0.2

0.13

Child

71.74 (57.61–81.52)

50.54 (40.22–64.13)

64.13 (53.26–75.35)

67.94 (54.35–78.3)

Parent/proxy

65.76(51.09–78.26)

49.46 (40.22–65.22)

55.44 (46.2–64.13)

60.87 (47.83–73.91)

0.84
Discussion
Any possible differences pertaining to school are likely to be distorted as a result of changes in teaching methods. Our study showed that children treated with PD and HD took advantage of private tutoring considerably more often than CT children. Nonetheless, the evaluation of school functioning is generally low. This emphasises that the school achievements should be improved, the teaching programme should be adapted to the individual circumstances of the patients and any efforts of the pupils should be encouraged.
Our study has several limitations. The varying number of subjects in the individual groups of studied children may limit the statistical analysis. However, obtaining materials from larger groups would require international research with an inclusion of a specific cultural context. It should be noted that in comparison with the data in the literature, the groups tested by us are relatively large. Our results pertain to the Polish population. They may not be the representative of other populations; however, we believe that they contribute with important data concerning the consequences of CKD. Data were obtained from most parents; however, only some of them completed the PedsQL tests, particularly the few parents who are not the primary caregivers. The above may not only indicate the polarization of the tasks associated with caring for a sick child but also the actual emotional split within the family. This suggests the need for further research on social structure in families with children suffering from CKD and to determine the actual role of the individual family members. It is worth mentioning that the present study had a cross-sectional design which means that no conclusion can be drawn in regard to the causality of the observed relationships. We are also aware that numerous factors that may determine the quality of life (both somatic and related to the families' socio-economic status) have not been taken into account. Due to the small number of HD children (currently, a small percentage of children with ESRD treated with haemodialysis), the observation that this group requires special psychological support is questionable.
In summary, the health-related quality of life in children with CKD is lower than in healthy children, already in the early stages of the disease. The lack of significant differences in the perception of emotional functioning depending on the stage of CKD indicates the influence of the disease itself on the child's mental state. This suggests the necessity of psychological help for children with CKD practically immediately after the diagnosis. Mainly, support should be given in the areas of school education and emotional functioning. Children on HD require special support on account of the lowest demonstrated overall HRQoL. Children's lower rating of the quality of life observed by their parents may render the patients unmotivated and adversely affect their adaptation to life in later years. It also may create conflicts between the parents and their children. Further multi-centre research should be conducted in order to develop viable programmes for improving the HRQoL.
Open Access
This article is distributed under the terms of the Creative Commons Attribution License which permits any use, distribution, and reproduction in any medium, provided the original author(s) and the source are credited.