01-12-2013 | Uitgave 10/2013 Open Access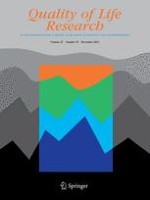 Perception of health-related quality of life in children with chronic kidney disease by the patients and their caregivers: Multicentre national study results
Tijdschrift:
Auteurs:

Katarzyna Kiliś-Pstrusińska, Anna Medyńska, Irena Bałasz Chmielewska, Ryszard Grenda, Agnieszka Kluska-Jóźwiak, Beata Leszczyńska, Julita Niedomagała, Ilona Olszak-Szot, Monika Miklaszewska, Maria Szczepańska, Marcin Tkaczyk, Agnieszka Urzykowska, Anna Wasilewska, Katarzyna Zachwieja, Maria Zajączkowska, Helena Ziółkowska, Ilona Zagożdżon, Danuta Zwolińska
Abstract
Objective
The aim of the study was to analyse the health-related quality of life (HRQoL) in Polish children with chronic kidney disease (CKD) dependant on the CKD stage, treatment modality and selected social life elements in families of the patients. Furthermore, potential differences between self-report and parent/proxy reports and the factors influencing them were assessed.
Methods
A total of 203 CKD children (on haemodialysis (HD), peritoneal dialysis (PD) and conservative treatment (CT)) and their 388 parent/proxies were enrolled into a cross-sectional national study. The demographic and social data were evaluated. We used the Paediatric Quality of Life Inventory 4.0 Generic Core Scales to assess the HRQoL in children.
Results
Health-related quality of life scores for all CKD groups were significantly lower in all domains compared with population norms, the lowest one being in the HD group. In CT children, HRQoL did not depend on the CKD stage. Both parents assessed the HRQoL of their children differently depending on their involvement in the care. There are differences between the HRQoL scores of the children and their parents.
Conclusion
The HRQoL in children with CKD is lower than in healthy children. This is already observed in the early stages of the disease. The disease itself influences the child's mental state. Children on HD require special support on account of the lowest demonstrated overall HRQoL. Children's lower rating of the quality of life observed by their parents may render the patients unmotivated and adversely affect their adjustment to life in later years. It may also create conflicts between the parents and the children.