01-08-2015 | Uitgave 8/2015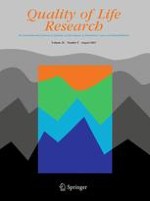 Perceived health status and cardiometabolic risk among a sample of youth in Mexico
Tijdschrift:
Auteurs:

Yvonne N. Flores, Gabriel Q. Shaibi, Leo S. Morales, Jorge Salmerón, Anne M. Skalicky, Todd C. Edwards, Katia Gallegos-Carrillo, Donald L. Patrick
Abstract
Purpose
To examine differences in self-reported perceived mental and physical health status, as well as known cardiometabolic risk factors in a sample of normal weight, overweight, and obese Mexican youths.
Methods
Cross-sectional analysis of 164 youths aged 11–18 years recruited in Cuernavaca, Mexico. Participants completed a self-administered questionnaire that included measures of generic and weight-specific quality of life, perceived health, physical function, depressive symptoms, and body shape satisfaction. Height, weight, and waist circumference were measured, and body mass index (BMI) was determined. Fasting blood samples from participants yielded levels of glucose, triglycerides, and cholesterol (total, HDL, and LDL).
Results
Nearly 50 % of participants were female, 21 % had a normal BMI, 39 % were overweight, and 40 % were obese. Obese youths reported significantly lower measures of perceived health status (PHS) and showed an increase in cardiometabolic risk, compared with normal weight youths. Physical functioning, generic and weight-specific QoL were inversely associated with BMI, waist circumference, and glucose. Depressive symptoms were positively correlated with BMI, waist circumference, glucose levels, and HDL cholesterol. No correlation was found between PHS and cardiometabolic risk measures after controlling for BMI.
Conclusions
In this sample of Mexican youths, obesity was associated with a significantly lower PHS and increased cardiometabolic risk.