01-08-2010 | Original Article | Uitgave 4/2010 Open Access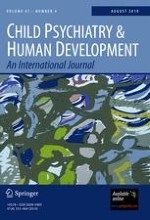 Peer-Victimization and Mental Health Problems in Adolescents: Are Parental and School Support Protective?
Tijdschrift:
Auteurs:

Christina Stadler, Julia Feifel, Sonja Rohrmann, Robert Vermeiren, Fritz Poustka
Abstract
The aim of this study was to investigate the frequency and effects of peer-victimization on mental health problems among adolescents. Parental and school support were assumed as protective factors that might interact with one another in acting as buffers for adolescents against the risk of peer-victimization. Besides these protective factors, age and gender were additionally considered as moderating factors. The Social and Health Assessment survey was conducted among 986 students aged 11–18 years in order to assess peer-victimization, risk and protective factors and mental health problems. For mental health problems, the Strengths and Difficulties Questionnaire (SDQ) was used. Effects of peer-victimization on mental health problems were additionally compared with normative SDQ data in order to obtain information about clinically relevant psychopathology in our study sample. Results of this study show that peer-victimization carries a serious risk for mental health problems in adolescents. School support is effective in both male and female adolescents by acting as a buffer against the effect of victimization, and school support gains increasing importance in more senior students. Parental support seems to be protective against maladjustment, especially in peer-victimized girls entering secondary school. Since the effect of peer-victimization can be reduced by parental and school support, educational interventions are of great importance in cases of peer-victimization.