02-11-2015 | Empirical Research | Uitgave 12/2015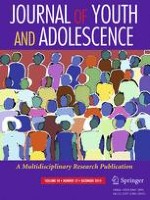 Peer Influence, Peer Status, and Prosocial Behavior: An Experimental Investigation of Peer Socialization of Adolescents' Intentions to Volunteer
Tijdschrift:
Auteurs:

Sophia Choukas-Bradley, Matteo Giletta, Geoffrey L. Cohen, Mitchell J. Prinstein
Abstract
Peer influence processes have been documented extensively for a wide range of maladaptive adolescent behaviors. However, peer socialization is not inherently deleterious, and little is known about whether adolescents influence each other's prosocial behaviors, or whether some peers are more influential than others towards positive youth outcomes. This study addressed these questions using an experimental "chat room" paradigm to examine in vivo peer influence of prosocial behavior endorsement. A school-based sample of 304 early adolescents (55 % female, 45 % male;
M
age
= 12.68) believed they were interacting electronically with same-gender grademates (i.e., "e-confederates"), whose peer status was experimentally manipulated. The participants' intent to engage in prosocial behaviors was measured pre-experiment and in subsequent "public" and "private" experimental sessions. Overall, the adolescents conformed to the e-confederates' prosocial responses in public; yet, these peer influence effects were moderated by the peer status of the e-confederates, such that youth more strongly conformed to the high-status e-confederates than to the low-status ones. There also was some evidence that these peer influence effects were maintained in the private session, indicating potential internalization of prosocial peer norms. These findings help bridge the positive youth development and peer influence literatures, with potential implications for campaigns to increase prosocial behaviors.