01-04-2016 | Uitgave 4/2016 Open Access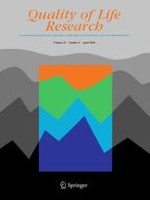 Paving the way for the use of the SDQ in economic evaluations of school-based population health interventions: an empirical analysis of the external validity of SDQ mapping algorithms to the CHU9D in an educational setting
Tijdschrift:
Auteurs:

Nicole R. S. Boyer, Sarah Miller, Paul Connolly, Emma McIntosh
Abbreviations
SEW
Social and emotional well-being
SDQ
Strengths and Difficulties Questionnaire
HRQoL
Health-related quality of life
QALY
Quality-adjusted life year
PedsQL
Paediatric Quality of Life Inventory
CHQ
Child Health Questionnaire
NICE
National Institute for Health and Care Excellence
GEE
Generalised estimating equations
NIMDM
Northern Ireland Multiple Deprivation Measure
Background
Methods
Results
Questionnaires were returned by teachers in 67 schools at baseline, 65 schools after intervention, and 64 schools at 12-month follow-up. The three schools that dropped out came from a range of different types and deprivation levels, so it is unlikely that they would bias results. After data cleaning and MI, a total of 1254 child participants were included in the analysis making up 3762 observations. At baseline, a majority of the pupils (88.9 %) were recruited in Primary 5 (approximately 9 years old); however, some Primary 4 and Primary 6 pupils were also included. Table
2
presents the characteristics of these participants. The sample was made up of 51.5 % boys, and median deprivation rank was 430 which is comparable to median population rank of 445. As the sample deprivation rank is less than the median rank, it can be said the sample median is more deprived than the population median rank, but the extent to which the sample is more deprived cannot be inferred from the rankings.
Table 2
Characteristics of participants
Characteristics

Participants

a

(

n

= 1254)

British community sample b

Gender

646 (51.5)

608 (48.5)

Grade level

81 (6.5)

1115 (88.9)

P6 (≈10 years old),

n

(%)

58 (4.6)

NIMDM deprivation rank c, median (SD)

430 (245.9)

SDQ total difficulties, mean (SD)

12 (3.2)

6.6 (6.0)

SDQ prosocial subscale, mean (SD)

8.3 (2.1)

7.2 (2.4)

SDQ emotion subscale, mean (SD)

1.5 (2.0)

1.4 (1.9)

SDQ conduct subscale, mean (SD)

2.3 (1.0)

0.9 (1.6)

SDQ hyperactivity subscale, mean (SD)

4.1 (1.3)

2.9 (2.8)

SDQ peer problems subscale, mean (SD)

4.1 (0.9)

CHU9D original tariff, mean (SD)

0.84 (0.11)

CHU9D alternative tariff, mean(SD)

0.80 (0.13)

CHU9D algorithm using five SDQ subscales, mean(SD)

0.84 (0.05)

CHU9D algorithm using three SDQ subscales, mean(SD)

0.83 (0.04)
The mean (SD) for SDQ total difficulties and prosocial behaviour scores was 12 (3.2) and 8.3 (2.1), respectively, which are classified as 'slightly raised' and 'close to average'. The mean (SD) for SDQ subscales emotion, conduct, hyperactivity, and peer problems was 1.5 (2.0), 2.3 (1.0), 4.1 (1.3), and 4.1 (0.9). As a point of reference, the mean (SD) of SDQ subscales of a large community sample is provided in Table
2
. Emotion and hyperactivity subscales were classified as 'close to average', and conduct and peer problems were 'slightly raised'. The frequency of responses for each symptom scale is reported in Fig.
1
.
×
The mean (SD) utility scores were 0.84 (0.11) and 0.80 (0.13) based on the original and alternative tariffs. These scores are commensurate with reported population health utility values [
39
,
53
]. With both scoring algorithms, approximately 5.72 % of participants were classified in full health (i.e. utility = 1). In all dimensions of the CHU9D except 'tired', no problems were most commonly reported. Figure
2
reports the frequency of responses to all levels.
×
The mean (SD) utility values for the mapping algorithms using five and three of the SDQ subscales were 0.84 (0.05) and 0.83 (0.04). Each method for calculating utility produced statistically significantly different results except the original tariff and mapping algorithm using five SDQ subscales in which no statistically significant difference was detected (
p
= 0.69) (95 % CI −0.003, 0.004). Table
3
reports these differences.
Table 3
Differences in utility values
| Difference in pair | | Mean | SD | | | | 95 % CI |
| --- | --- | --- | --- | --- | --- | --- | --- |
| Original versus alternative | 3762 | 0.036 | 0.051 | 43.926 | 3761 | 0.000 | 0.035, 0.038 |
| Original versus 5 SDQ subscales | 3762 | 0.001 | 0.116 | 0.402 | 3761 | 0.688 | −0.003, 0.004 |
| Original versus 3 SDQ subscales | 3762 | 0.010 | 0.115 | 5.360 | 3761 | 0.000 | 0.006, 0.014 |
| Alternative versus 5 SDQ subscales | 3762 | −0.036 | 0.136 | −16.10 | 3761 | 0.000 | −0.040, −0.031 |
| Alternative versus 3 SDQ subscales | 3762 | −0.026 | 0.135 | −12.022 | 3761 | 0.000 | −0.031, −0.022 |
| 5 SDQ versus 3 SDQ subscales | 3762 | 0.009 | 0.011 | 53.209 | 3761 | 0.000 | 0.009, 0.010 |
There were low, but statistically significant correlations between all combinations of CHU9D (original tariff), total difficulties, and prosocial behaviour. Pearson's rank correlation coefficient showed significant correlations between: total difficulties and CHU9D (
r
= −0.08,
p
< 0.01), total difficulties and prosocial behaviour (
r
= −0.27,
p
< 0.01), and prosocial behaviour and CHU9D (
r
= 0.04,
p
= 0.02).
Discussion
In this sample, half of teacher-rated SDQ subscales scores were 'close to average' and half were 'slightly raised'. Total difficulties, conduct, and peer problems were classified as 'slightly raised' in comparison with a large UK sample [
48
]. Sample mean scores in each subscale were higher (indicating more difficulties) than UK average, except in prosocial behaviour where the sample mean was higher (indicating greater prosocial behaviour) [
54
,
55
]. In terms of economic evaluation, this outcome on its own is less useful because the 'value' associated with unit changes in SDQ scores is unknown. For CHU9D, the majority of the sample was in the 'no problems' category, with the exception of 'tired' (see Fig.
2
). With these differences between the two measures, there does not seem to be large overlap between descriptive systems. This is due to differences on a conceptual basis; the SDQ is a behavioural screening tool designed to assess emotional and behavioural functioning, while the CHU9D assesses the child's broader functioning and HRQoL. However, when comparing single dimensions of the two measures in terms of frequency of responses (see Figs.
1
,
2
), there is some overlap. Worried and Sad dimensions of the CHU9D overlap the Emotional symptom scale of the SDQ well.
It is also important to note that despite all of the correlations between the SDQ and CHU9D being significant they were not very high; the statistical correlation may simply be a result of the large sample size. The SDQ alone cannot provide insight into resource allocation decision-making, and whether the programme is a worthwhile use of educational resources (or indeed an argument for investing health care resources). Yet, the SDQ is a common primary outcome measure in many paediatric population health interventions. For economic evaluation, the CHU9D is useful because it has value associated with incremental change.
The mean utility generated for the original tariff CHU9D was 0.84 which compares with the range of mean values reported in previous studies (0.803–0.86) [
24
,
56
,
57
]. The studies varied in context, setting, and age groups, but were included for comparison as so few studies have published CHU9D outcomes. The mean utility from alternative tariff CHU9D was lower than the original tariff which is consistent with recent Chinese and Australian studies that applied both tariffs to their samples [
24
,
58
]. Ratcliffe and colleagues [
58
] have compared the adult (original) and adolescent (alternative) tariffs using the responses to a web-based survey of 500 Australian adolescents, aged 11–17. They found differences in adult and adolescent values for identical health states may have enough significance to impact on health care policy [
58
]. Differences between the instruments may be due to differences in descriptive systems, size and nature of the samples, and the valuation methods used to develop each scoring algorithm [
58
]. Nevertheless, the Chinese version CHU9D found utilities generated discriminated well in relation to self-reported health status, regardless of which value set was employed [
24
]. By applying the mapping algorithms to an external dataset, this research contributes to the existing evidence base around the suitability of the use of the five SDQ subscale mapping algorithm for eliciting utilities.
Strengths and limitations
The advantage the CHU9D brings to the evaluation of paediatric interventions is that they can now be assessed using a preference-based measure, combined with costs and judgements made in relation to their relative cost-effectiveness. It is now possible to compare paediatric programmes from a range of areas that aim to improve different aspects of children's health and well-being by including a measure such as CHU9D. Changes in effectiveness as measured using the SDQ and mapped to CHU9D can now be readily compared in terms of their costs required to achieve those changes in outcomes. For example, a cost per three-point change in the SDQ could not readily be compared to a cost per three-point increase on a national examination. Having a uniform measure of QoL that has been valued by the population allows comparison of programmes in terms of both costs and effects as they have been measured on the same generic scale.
This study has demonstrated initial evidence for the use of the SDQ in economic evaluation of school-based interventions. In broader settings outside of the adult health care sector (i.e. education, paediatric, and population health), industry-specific primary outcome measures such as the SDQ may be the only measure of effect collected. In these instances, this study indicates the five SDQ subscale algorithm as a useful instrument, affording health economists' the opportunity to conduct preferred cost–utility analyses.
Conclusion
The SDQ and CHU9D are able to measure outcomes in children aged 8–13 years within a school-based setting, and there is initial evidence that they are related in their measurement properties. When conducting economic evaluation of population-based interventions where traditional utility measurement methods are missing, preliminary findings suggest the mapping algorithm using five SDQ subscales optimal for predicting mean utility. This allows analysts the opportunity to conduct cost–utility analysis in paediatric or school-based programmes where previously this would have been challenging due to a lack of preference-based outcome measures. To our knowledge, the SDQ and CHU9D have not yet been used to predict longer-term outcomes within an economic evaluation context. This is an important avenue for further research as issues remain as to how these childhood measures extrapolate into adulthood.
Acknowledgments
We would like to thank Professor David Parkin for his discussion on the first draft of this work presented at the Health Economists Study Group (HESG), Glasgow Caledonian University, 23–25t June 2014.
Funding
A cluster randomised controlled trial evaluation and cost-effectiveness analysis of the roots of empathy programme are funded by the National Institute for Health Research Public Health Research programme (Project Ref: 10/3006/02).
Compliance with ethical standards
Conflict of interest
The authors declare they have no conflict of interest.
Ethical standard
Ethical approval was granted by the School of Education, Queen's University Belfast, Research Ethics Committee on 2 September 2011. All procedures performed in studies involving human participants were in accordance with the ethical standards of the institutional and/or national research committee and with the 1964 Helsinki Declaration and its later amendments or comparable ethical standards. This article does not contain any studies with animals performed by any of the authors.
Informed consent
Informed consent was obtained from all individual participants included in the study.
Open Access
This article is distributed under the terms of the Creative Commons Attribution 4.0 International License (
http://​creativecommons.​org/​licenses/​by/​4.​0/​
), which permits unrestricted use, distribution, and reproduction in any medium, provided you give appropriate credit to the original author(s) and the source, provide a link to the Creative Commons license, and indicate if changes were made.