01-12-2016 | Research | Uitgave 1/2016 Open Access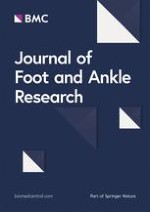 Patterns of foot complaints in systemic lupus erythematosus: a cross sectional survey
Tijdschrift:
Auteurs:

Simon J. Otter, Sunil Kumar, Peter Gow, Nicola Dalbeth, Michael Corkill, Maheswaran Rohan, Kevin A. Davies, Sam Pankathelam, Keith Rome
Belangrijke opmerkingen
Electronic supplementary material
The online version of this article (doi:
10.​1186/​s13047-016-0143-8
) contains supplementary material, which is available to authorized users.
Competing interests
The authors declare that they have no competing interests.
Authors' contributions
SO conceived the study, co-designed the questionnaire, collected and analysed data, SK, PG, MC enabled data acquisition, ND assisted with questionnaire design and data acquisition, MR, analysed data, KD co-designed the questionnaire and undertook pilot work, SP co-designed the questionnaire and undertook pilot work, KR assisted with questionnaire design, facilitated data acquisition and analysed data. All authors contributed to, read and approved the final manuscript.
Authors' information
S Otter, Researcher and Principal Lecturer, PhD.
S Kumar, Consultant Rheumatologist, MD.
P Gow, Associate Professor, MD.
N Dalbeth, Professor of Rheumatology, PhD.
M Corkill, Consultant Rheumatologist, MD.
M Rohan, Statistician, PhD.
KA Davies Professor of Medicine, PhD.
S Pankathelam, Consultant Rheumatologist, MD.
K Rome, Professor of Podiatry, PhD.
Abstract
Background
Foot complaints are common in inflammatory arthropathies such as rheumatoid arthritis and cause considerable disability. However, little is published about the nature and extent of foot complaints in systemic lupus erythematosus (SLE). We aimed to explore foot complaints among people with (SLE) and to evaluate the associations between foot pain and self-reported activities of daily living and well-being.
Methods
We developed and tested a new 40-item item self-administered questionnaire, using a five-stage development process utilising patient involvement throughout to ensure face and content validity. The self-administered instrument was posted to 406 people with SLE attending adult rheumatology clinics across three health boards in Auckland, New Zealand. The questionnaire enquired about symptoms of foot pain, extra-articular features, anatomical distribution of symptoms according to validated foot-mannequins and the impact of foot symptoms on activities of daily living and well-being.
Results
In total, 406 questionnaires were posted, with 131 responses (response rate 32 %). We found 89 % were women, mean (SD) age 51 (15) years, mean (SD) diagnosis 12.5 (11.1) years. Overall, 77 % of those responding to the questionnaire reported foot pain during their SLE, with 45 % reporting current foot pain. All regions of the feet were affected, with the hindfoot (32 %) and ankles (30 %) most troublesome. The most common self-reported extra-articular foot complaints were cold feet, swelling and numbness. Almost two-thirds (61 %) reported foot pain adversely affected their lives; foot pain prevented sleeping in 36 % and had a negative effect on emotions for 33 %. Only 33 % of participants had seen a podiatrist. Significant association was found between foot pain and standing longer than 15 min (
p
 < 0.001), walking (
p
 < 0.001), climbing stairs (
p
 < 0.001) and going shopping (
p
 < 0.001). Pain was the primary symptom to affect quality of life (47/100).
Conclusion
Foot complaints in SLE are heterogeneous in nature, and may have a substantial negative impact on patient well-being. Foot complaints need to be addressed to reduce the burden of SLE and our findings support the need for wider access to specific foot care services.