09-09-2015 | Special Section: PROs in Non-Standard Settings (by invitation only) | Uitgave 3/2016 Open Access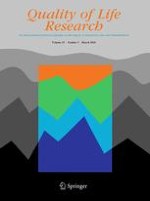 Patients' and health professionals' understanding of and preferences for graphical presentation styles for individual-level EORTC QLQ-C30 scores
Tijdschrift:
Auteurs:

W. Kuijpers, J. M. Giesinger, A. Zabernigg, T. Young, E. Friend, I. M. Tomaszewska, N. K. Aaronson, B. Holzner
Abstract
Purpose
To investigate patients' and health professionals' understanding of and preferences for different graphical presentation styles for individual-level EORTC QLQ-C30 scores.
Methods
We recruited cancer patients (any treatment and diagnosis) in four European countries and health professionals in the Netherlands. Using a questionnaire, we assessed objective and self-rated understanding of QLQ-C30 scores and preferences for five presentation styles (bar and line charts, with or without color coding, and a heat map).
Results
In total, 548 patients and 227 health professionals participated. Eighty-three percent of patients and 85 % of professionals self-rated the graphs as very or quite easy to understand; this did not differ between graphical presentation styles. The mean percentage of correct answers to questions objectively assessing understanding was 59 % in patients, 78 % in medical specialists, and 74 % in other health professionals. Objective understanding did not differ between graphical formats in patients. For non-colored charts, 49.8 % of patients did not have a preference. Colored bar charts (39 %) were preferred over heat maps (20 %) and colored line charts (12 %). Medical specialists preferred heat maps (46 %) followed by non-colored bar charts (19 %), whereas these charts were equally valued by other health professionals (both 32 %).
Conclusion
The substantial discrepancy between participants' high self-rated and relatively low objective understanding of graphical presentation of PRO results highlights the need to provide sufficient guidance when presenting such results. It may be appropriate to adapt the presentation of PRO results to individual preferences. This could be facilitated when PROs are administered and presented to patients and health professionals electronically.