26-02-2019 | Onderzoek | Uitgave 4/2019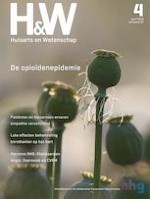 Patiënten en huisartsen ervaren empathie verschillend
Tijdschrift:
Auteurs:

Lianne Hermans, Tim Olde Hartman, Patrick Dielissen
Belangrijke opmerkingen
Hermans L, Olde Hartman T, Dielissen P. Patiënten en huisartsen ervaren empathie verschillend. Huisarts Wet Huisarts Wet 2019;62(4):16-20. DOI:10.1007/s12445-019-0033-y.
Mogelijke belangenverstrengeling: niets aangegeven.
Dit is een bewerkte vertaling van Hermans L, Olde Hartman T, Dielissen P. Differences between GP perception of delivered empathy and patient-perceived empathy: a cross-sectional study in primary care. Br J Gen Pract 2018;68:e621-6. Publicatie gebeurt met toestemming.
Samenvatting
Inleiding
Wanneer een arts empathie toont, heeft dat een positief effect op gezondheidsuitkomsten. Onderzoek naar empathie richt zich vaker op de ervaring van huisartsen, dan op de beleving van patiënten. Daardoor is niet duidelijk of huisarts en patiënt hetzelfde denken over empathie.
Methode
Van november 2016 tot en met februari 2017 vond een cross-sectioneel onderzoek plaats. De deelnemende huisartsen en patiënten vulden direct na een consult een vragenlijst over de ervaren empathie in. Patiënten kregen de Consultation and Relational Empathy-vragenlijst voorgelegd (CARE, 10 tot 50 punten). Huisartsen vulden een variant van deze lijst in, waarbij de vragen geherformuleerd waren vanuit het perspectief van de huisarts.
Resultaten
Het onderzoek betrof 147 consulten van 34 verschillende huisartsen uit 16 praktijken. Voor de analyse waren 143 vragenlijsten bruikbaar. Patiënten scoorden op een schaal van 10 tot 50 de door de huisarts getoonde empathie significant hoger dan de huisartsen, respectievelijk 42,1 en 31,6 [p < 0,0001). De correlatie tussen de score van de patiënt en de huisarts was laag (r = 0,06).
Conclusie
Huisartsen scoren de door hen getoonde empathie consequent en statistisch significant lager dan de patiënten de ervaren empathie scoren. De wijze waarop huisartsen empathie beleven is nauwelijks voorspellend voor de manier waarop patiënten die ervaren. Patiënten zijn (zeer) positief over de door hun huisarts getoonde empathie.