2021 | OriginalPaper | Hoofdstuk
2. Pathophysiology of pregnancy complications in healthy women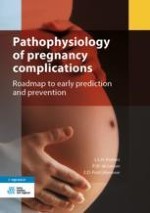 eerste hoofdstuk lezen
Auteurs: Dr. L. L. H. Peeters, Prof. dr. P. W. de Leeuw, Dr. E. D. Post Uiterweer
Uitgeverij: Bohn Stafleu van Loghum
Abstract
During pregnancy, the expectant mother provides a new human life with the ideal conditions to grow, mature and develop to its maximum genetic potential. This extra effort requires adaptive changes in her system, initially her immune function, but after embryo implantation, also various other organs, particularly in the cardiovascular/renal systems and metabolism. Some adaptations only consist of a reset of a particular setpoint (e.g. blood pressure and osmolality), whereas others (e.g. cardiovascular and metabolic adaptations) require the utilization of some of the maternal 'normal' reserve capacity (described in chap.
1
). Chapter
2
consists of two sections. The first section describes frequently observed pathophysiologic developments in pregnancy in seemingly healthy women resulting from maladaptation of the maternal hemodynamic-, renal-, immune- and metabolic functions. The impact is usually a disruption of pregnancy course and outcome, because of the development of a (
1
) Placental syndrome, (
2
) Spontaneous preterm birth, or (
3
) Gestational diabetes. The second section describes less common pathophysiologic events that primarily affect maternal wellbeing, in conjunction with (
4
) side-effects of placental hormones, (
5
) abnormal placental morphology or insertion site in the uterus, and (
6
) distressing mechanical effects, caused by the rapidly growing pregnant uterus.