2012 | OriginalPaper | Hoofdstuk
8. Pathology of Chronic Obstructive Coronary Disease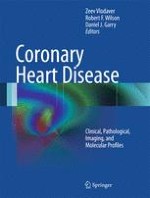 eerste hoofdstuk lezen
Auteur: MD Zeev Vlodaver
Uitgeverij: Springer US
Abstract
This chapter focuses on pathology of coronary atherosclerosis as well as on the various types of lesions of the coronary ostia.
Intrinsic disease of the coronary arteries is overwhelmingly atherosclerotic in nature. Uncommon forms of significant coronary disease include ostial stenosis from primary disease of the aorta.
Lesions generally classified as coronary atherosclerosis are focal, often eccentric thickenings of the intima with fibrous tissue and accumulation of lipid-laded macrophages foam cells. Characteristically, the purely atheromatous lesion is associated with a residual lumen. With such a lesion, the artery may be termed obstructed or stenotic. Complicating lesions include thrombi and intramural hemorrhage. In instances of chronic ischemic heart disease, coronary thrombi are found to be organized and represented by foci of vascular connective tissue obstructing a lumen previously narrowed by underlying atherosclerosis. Arteries so involved may be said to be occluded.