17-06-2018 | Original Paper | Uitgave 9/2018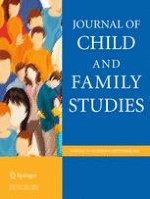 Parents' Perceptions of their Acceptance and Rejection Behaviors: Benchmarking Spain and Ecuador
Tijdschrift:
Auteurs:

Susana Torío-López, María-Dolores Palacios-Madero, Janeth-Catalina Mora-Oleas, José-Vicente Peña-Calvo, Mercedes Inda-Caro
Abstract
Cross-cultural studies are necessary to test and understand how measures work in diverse multicultural societies. Positive parenting needs to be defined and the basic elements making up this construct need to be established. IPARTheory stands out as the main theory defining parenting focusing on the acceptance-rejection dimension. This study explored the factorial structure of the PARQ Questionnaire Parent Version (Short Form) in Spanish (
n
 = 4169), with age range 20 to 72 years old; and Ecuadorian (
n
 = 569) parents, with ages from 22 to 71 years old. This instrument assesses parents' perceptions of their acceptance and rejection behaviors towards their children. The questionnaire has a 25-item structure in four scales: warmth-affection, hostility/aggression, indifference/neglect and undifferentiated-rejection. Confirmatory factor analysis supported the four-factor model in both samples, however the invariance of the model must be accepted with caution. In addition, an ANOVA test showed statistically significative differences in the four factors between Spanish and Ecuadorian parents. Spain and Ecuador are both Latin countries; however, there are differences between them, which may explain the differences found in this research. Authorities must encourage programs and social services to educate people in parental roles and tasks, besides public policies are needed to support positive parenting, but it is important to define the domains which make this construct.