14-06-2017 | Original Paper | Uitgave 11/2017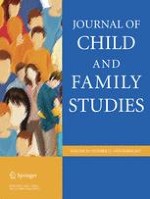 Parenting Stress and Coping Strategies in Mothers of Children Receiving Early Intervention Services
Tijdschrift:
Auteurs:

Joana Calero Plaza, Mª Dolores Grau Sevilla, Gabriel Martínez Rico, Catalina Patricia Morales Murillo
Abstract
The relationship between coping strategies of mothers of children receiving early intervention services and parenting stress was studied. A total of 144 mothers from 17 early intervention centers located in the Valencian Community, Spain, participated of the study. Mother's mean age was 35.6 years (SD = 4.10) and children's mean age was 2.71 years (SD = 1.21). Mothers' parenting stress level was measured using the Parenting Stress Index-SF (PSI-SF) and their coping strategies were evaluated using the Adult Coping Response Inventory (CRI-A). We proposed two structural equation models to predict total parenting stress and its factors in relationship to child's and mother's sociodemografic variables, and mediated by mother's coping strategies. Mothers' education level and child diagnosis had a direct impact on the three PSI-SF factors. Type of disorder and Cognitive Avoidance were positively and significantly (
p
<
 .05) related to the Emotional Discharge coping strategy, explaining a 20.9% of the variance. On the other hand, mothers' educational level and child's type of disorder, directly, and coping strategies, in the form of mediator or directly, have a relationship with the dimensions of maternal stress. Both models show similar results although the second model supports the existence of a latent stress factor that is explained by the three stress factors. The authors concluded that mothers of children with especial needs could potencially benefit from early intervention programs that provide supports to help them to incorporate aproach coping styles to their coping strategies.