09-05-2015 | Original Paper | Uitgave 12/2015 Open Access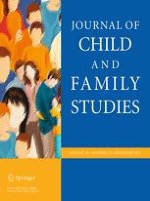 Parenting and Children's Internalizing Symptoms: How Important are Parents?
Tijdschrift:
Auteurs:

Cathy M. van der Sluis, Francisca J. A. van Steensel, Susan M. Bögels
Abstract
Parenting behaviors are associated with children's internalizing symptoms, however, it is not often examined which factors could possibly influence this relationship. The goals of this study were twofold. One goal was to examine whether the association between parenting and children's internalizing symptoms would increase if parenting behaviors were assessed behaviorally and in a context where the child displayed specific anxious behaviors. Another goal was to examine whether this relationship was influenced by the age and gender of the child, and by possible parenting differences between mothers and fathers. These questions were examined in a sample of 211 children aged 4–12 years; 140 community children and 71 clinically referred anxious children. Parents completed questionnaires regarding children's internalizing symptoms and parenting behaviors (positive reinforcement, punishment, force, reinforcement of dependency, and modeling/reassurance). In line with expectations, more punishment and less modeling/reassurance by parents were related to more internalizing symptoms in children. Child gender, child age, parent gender and clinical anxiety status were not found to influence the relationship between parenting and children's internalizing symptoms. Our results suggest that paternal parenting is as important as maternal parenting with respect to children's internalizing symptoms, and therefore, fathers could be included in child treatment as well.