27-12-2019 | Empirical Research | Uitgave 2/2020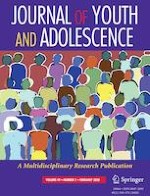 Parental Phubbing and Adolescents' Depressive Symptoms: Self-Esteem and Perceived Social Support as Moderators
Tijdschrift:
Auteurs:

Xingchao Wang, Ling Gao, Jiping Yang, Fengqing Zhao, Pengcheng Wang
Belangrijke opmerkingen
Publisher's note
Springer Nature remains neutral with regard to jurisdictional claims in published maps and institutional affiliations.
Abstract
Parental phubbing refers to the extent to which parents use or are distracted by their cell phone when they interact with their children. There has been growing scholarly interest in understanding the adverse effects of parental phubbing on adolescents' development. However, it is less clear whether parental phubbing potentially increases adolescents' depressive symptoms, to date, and the understanding of the factors which may affect this relationship is also limited. The current study, therefore, examined the relationship between parental phubbing and adolescents' depressive symptoms and sought to determine whether self-esteem and perceived social support simultaneously moderated this relationship. The participants included 2407 students (1202 girls; Mage = 12.75, SD = 0.58) from seven middle schools in China. They completed the questionnaires regarding their experience with parental phubbing, self-esteem, perceived social support, and depressive symptoms. Results indicated that adolescents with a high level of parental phubbing were likely to have a high level of depressive symptoms, after controlling age, gender, and perceived economic stress. Low self-esteem adolescents who experienced higher levels of parental phubbing were more likely to be depressed than high self-esteem adolescents. Furthermore, higher levels of parental phubbing significantly predicted increases in adolescents' depressive symptoms when their self-esteem and perceived social support were both low, or one was low. In contrast, this effect became nonsignificant when adolescents' self-esteem and perceived social support were both high. Parents who are concerned about adolescents' depressive symptoms should pay closer attention to adolescents' self-esteem, as well as their perceived social support, in order to provide appropriate interventions.