01-12-2017 | Original Paper | Uitgave 5/2018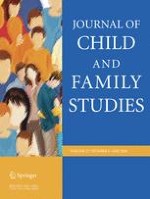 Parental Absence and Non-Suicidal Self-Injury: Social Support, Social Constraints and Sense-Making
Tijdschrift:
Auteurs:

Natasha P. Trujillo, Heather Servaty-Seib
Abstract
Given the rise of non-suicidal self-injury (NSSI) in youth, it is imperative to address understudied correlates that may contribute to NSSI. The primary purpose of the present study was to investigate NSSI in college students (
N
 = 1703) with or without a history of parental absence. We also examined the relationships between parental absence, interpersonal (i.e., support and social constraint) factors, intrapersonal (i.e., sense-making) factors, and NSSI in our sample of primarily Caucasian/White, heterosexual, single, traditional-aged, female college students. Logistic regression indicated that the odds of reporting NSSI were 5 times higher for participants who had experienced permanent parental absence (e.g., death) compared to those who had not experienced absence. The odds of reporting NSSI were 8.5 and 7.5 times higher for those respondents who had experienced non-permanent parental absence (e.g., parental travel) and both types of parental absence, respectively, when compared to those who experienced permanent parental absence. Social support, social constraint, and sense-making made significant but small contributions to the prediction of NSSI endorsement. Participants who reported experiencing both permanent and non-permanent absence exhibited the highest level (
p
 < .001, η
2
 = .09) of interpersonal reasons (e.g., to hurt someone) for engaging in NSSI. These findings can serve as a catalyst for future NSSI research (e.g., the potential importance of including parental absence as a background variable). Moreover, the results suggest the possible benefit of continued examination of: (a) the relationship between experiencing both types of parental absence and engagement in NSSI for interpersonal reasons; and (b) social support, sense-making, and social constraint as contributing factors of NSSI endorsement.