09-01-2017 | Original Paper | Uitgave 8/2017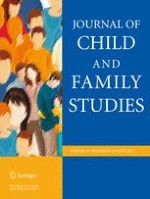 Parent Perspectives on Child Health and Wellbeing in Same-Sex Families: Heteronormative Conflict and Resilience Building
Tijdschrift:
Auteurs:

Simon Robert Crouch, Ruth McNair, Elizabeth Waters
Belangrijke opmerkingen
We honour the memory of co-author Professor Elizabeth Waters whose leadership, vision and vitality will never be forgotten.
Abstract
Measurable aspects of child health and wellbeing for children in same-sex parented families show that these children develop well, overall. Increasingly however, it is understood that stigma can have a negative impact on their health within a same sex family context. The aim of this study is to understand how child health in same-sex parented families is constructed by same-sex attracted parents and what this teaches us about the impact of stigma on child health in this context. Families from across Australia were sampled from a larger study of child health and wellbeing. We used family interviews, which took place between January and August 2013. Thematic analysis was used to identify themes. We report on the data from 11 parents with 10 children. Families presented stories of heteronormative conflict that arose from their position in society. Through family constructs, gender assumptions, discrimination and challenging interactions with institutions this heteronormative conflict had a significant influence on child health, sometimes through the generation of broader familial stress. Resilience building was used by parents to construct a positive environment for child health by combating the lack of understanding and discrimination seen at a societal level. Resilience that is developed to combat stigma provides significant benefits, particularly in a heteronormative world where traditional assumptions about families dominate. The anticipation of stigma, and heteronormative pressures, can stimulate same-sex attracted parents to prepare their children for potential negativity. This should be supported through appropriate school programs and considered political leadership.