01-04-2010 | Uitgave 3/2010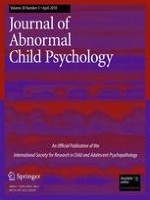 Parent Alcoholism Impacts the Severity and Timing of Children's Externalizing Symptoms
Tijdschrift:
Auteurs:

Andrea M. Hussong, Wenjing Huang, Patrick J. Curran, Laurie Chassin, Robert A. Zucker
Belangrijke opmerkingen
This research was supported by National Institute on Drug Abuse Grants R01 DA15398 to XX and R01 DA013148 to XXX. The work was also supported by National Institute on Alcohol Abuse and Alcoholism Grants R37 AA 07065 to XXX and R01 AA016213 to XX. We thank all current and former members of XX group, particularly XX and XX, for suggestions and help with the analysis.
Abstract
Although previous studies show that children of alcoholic parents have higher rates of externalizing symptoms compared to their peers, it remains unclear whether the timing of children's externalizing symptoms is linked to that of their parent's alcohol-related symptoms. Using a multilevel modeling approach, we tested whether children aged 2 through 17 showed elevated mother-, father- and child-reported externalizing symptoms (a) at the same time that parents showed alcohol-related consequences (time-varying effects), (b) if parents showed greater alcohol-related consequences during the study period (proximal effects), and (c) if parents had a lifetime diagnosis of alcoholism that predated the study period (distal effects). We used integrative data analysis to combine samples from two prospective studies to test these hypotheses. Distal effects of parent alcoholism on increased child externalizing symptoms were large and consistent. In addition, proximal and time-varying effects of parent alcohol symptoms were also found. Implications for preventing escalations in externalizing symptoms among this high-risk population are discussed.