01-02-2013 | Special Article | Uitgave 2/2013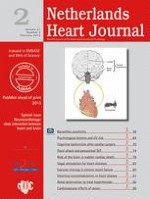 Panic attacks and supraventricular tachycardias: the chicken or the egg?
Tijdschrift:
Auteurs:

G. Frommeyer, L. Eckardt, G. Breithardt
Belangrijke opmerkingen
This article is based on previous talks by one of us (Günter Breithardt) at the Annual Meeting of the German Cardiac Society in 2005 and at the Colloquium of the Royal Netherlands Academy of Arts and Sciences, entitled "Neurocardiology: direct interaction between nervous system, brain and heart", Amsterdam, 31 May to 1 June 2012.
Abstract
Panic attacks occur in about 2 % of the population. Symptoms include a racing or pounding heart beat, chest pain, dizziness, light-headedness, nausea, difficulty in breathing, tingling or numbness in the hands, flushes or chills, dreamlike sensations or perceptual distortions. The symptoms of paroxysmal supraventricular tachycardia (PSVT) may be similar. A PSVT is often difficult to document on the ECG since it has often ceased before the patient comes to medical attention. Besides, a tachycardia may still be present and even be documented but interpreted as a phenomenon secondary to the panic attack. In addition, ECG abnormalities between episodes can often not be identified. The evidence that in some patients paroxysmal SVT is the cause, but not the consequence of a panic attack, is based on observations that catheter ablation was able to cure patients presenting with panic disorders. To better establish the prevalence of SVT as the underlying mechanism of a panic attack, there is a need for prospective studies and/or registries. Whereas gastric ulcer has in some patients changed from a psychosomatic disorder to an infectious disease, we may hypothesise that a certain proportion of panic disorders may mutate into an underlying arrhythmia rather than a primary psychiatric disorder.