01-03-2013 | Artikelen | Uitgave 3/2013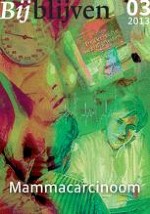 Overzicht van risicofactoren voor het ontstaan van mammacarcinoom
Tijdschrift:
Auteurs:

Prof. dr. G.H. de Bock, dr. C.M. Kets, prof. dr. C.J. van Asperen
Belangrijke opmerkingen
hoogleraar oncologische epidemiologie
klinisch geneticus
hoogleraar erfelijke en familiaire tumoren
Samenvatting
Er zijn verschillende factoren die het risico van mammacarcinoom beïnvloeden. Deze factoren kunnen het risico van mammacarcinoom bij een individuele patiënt sterk beïnvloeden. Indien van toepassing, kan op basis van deze factoren het beleid/advies aan de patiënt worden gegeven. In het algemeen is het toenemen van de leeftijd de belangrijkste risicofactor; om die reden start in Nederland het bevolkingsonderzoek vanaf de leeftijd van 50 jaar. Er is daarnaast reden om standaard intensievere screening aan te bieden aan vrouwen met in de voorgeschiedenis mammacarcinoom, vrouwen die voor het 40e jaar thoraxbestraling hebben gehad, een erfelijke aanleg voor mammacarcinoom hebben, of op basis van de familieanamnese een twee of meer keer zo hoge kans op mammacarcinoom hebben.