21-12-2015 | Original Article | Uitgave 2/2016 Open Access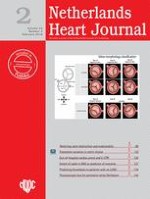 Outcome of stand-alone thoracoscopic epicardial left atrial posterior box isolation with bipolar radiofrequency energy for longstanding persistent atrial fibrillation
Tijdschrift:
Auteurs:

M. G. Compier, J. Braun, A. Tjon, K. Zeppenfeld, R. J. M. Klautz, M. J. Schalij, S. A. Trines
Abstract
Introduction
Catheter ablation of longstanding (> 1 year) persistent atrial fibrillation (AF) is associated with poor outcome. This might be due to remodelling and fibrosis formation, mainly located in the posterior left atrial (LA) wall. Therefore, we adopted a thoracoscopic epicardial box isolation of the posterior left atrium using bipolar RF energy with intraoperative testing of conduction block.
Methods and results
Bilateral thoracoscopic box isolation was performed with a bipolar RF clamp. Entrance block was defined as absence of a conducted electrogram within the box, while exit block was confirmed by pacing at 10.0 V/2 ms. Ablation outcome was evaluated after 3, 6, 12 and 24 months with 12-lead ECGs and 24-hour Holter recordings.
Twenty-five consecutive patients were included (58 ± 7 years, persistent AF duration 1.8 ± 0.9 years). Entrance block was achieved in all patients and exit block confirmed if sinus rhythm was achieved. After 17 ± 7 months, 76 % of the patients (
n
 = 19) were free of AF recurrence. One patient died within 1 month and was considered an ablation failure. Four patients with AF recurrences regained sinus rhythm with additional catheter ablation or antiarrhythmic drugs.
Conclusions
Treatment of longstanding persistent AF with thoracoscopic epicardial LA posterior box isolation using bipolar RF energy with intraoperative testing of conduction block is feasible and highly effective.