01-05-2018 | Artikelen | Uitgave 2/2018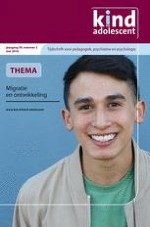 Ouderinterventie voor gedragsproblemen bij kinderen
Even effectief voor verschillende gezinnen?
Tijdschrift:
Auteurs:

Dr. Patty Leijten, Dr. Ankie Menting, Dr. Leoniek Wijngaards-de Meij, Dr. Maartje Raaijmakers, Prof. dr. Walter Matthys, Prof. dr. Bram Orobio de Castro
Belangrijke opmerkingen
Een Engelstalige versie van dit artikel is gepubliceerd in het tijdschrift
Prevention Science
.
Samenvatting
Ouderinterventies gericht op opvoedingsvaardigheden zijn een van de effectiefste strategieën om gedragsproblemen bij jonge kinderen te voorkomen of te verminderen. Het is belangrijk om te weten welke gezinnen baat hebben bij deze interventies. Er zijn namelijk signalen dat gezinnen met een migratieachtergrond of een laag opleidingsniveau deze interventies minder vaak aangeboden krijgen, op basis van de ongefundeerde aanname dat deze interventies voor hen 'niet passend' zouden zijn. Dit geldt ook voor gezinnen met kinderen die naast gedragsproblemen ook ADHD-symptomen of emotionele problemen hebben. Als we beter weten welke gezinnen baat hebben bij ouderinterventies, kunnen we ervoor zorgen dat zo veel mogelijk gezinnen de juiste hulp krijgen.
In dit onderzoek toetsen we of gezinnen die verschillen wat betreft migratieachtergrond, opleidingsniveau, en ernst en opeenstapeling van problemen evenveel profiteren van een ouderinterventie om gedragsproblemen te verminderen. We hebben hiervoor gebruikgemaakt van gegevens van 786 gezinnen (kinderen 2–10 jaar) uit vier Nederlandse wetenschappelijke studies met controlegroepen naar de effectiviteit van Incredible Years ('Pittige Jaren'). Van de gezinnen had 29 % een migratieachtergrond en was 31 % laagopgeleid.
De resultaten laten zien dat Incredible Years gedragsproblemen bij kinderen vermindert. De effectiviteit van de interventie verschilde niet voor gezinnen met of zonder een migratieachtergrond, voor verschillende opleidingsniveaus of voor kinderen met meer of minder ADHD-symptomen. Kinderen met meer gedragsproblemen en kinderen met meer bijkomstige emotionele problemen lieten de grootste afname van gedragsproblemen zien. Dezelfde ouderinterventie was dus grotendeels even effectief voor diverse gezinnen.