13-06-2018 | Uitgave 10/2018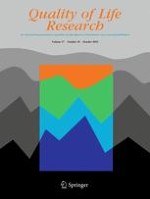 Oral health-related quality of life of children and adolescents with and without migration background in Germany
Tijdschrift:
Auteurs:

Ghazal Aarabi, Daniel R. Reissmann, Darius Sagheri, Julia Neuschulz, Guido Heydecke, Christopher Kofahl, Ira Sierwald
Abstract
Objectives
To compare oral health-related quality of life (OHRQoL) in children and adolescents with and without migration background, and to assess whether potential differences in OHRQoL can be sufficiently explained by oral health characteristics.
Materials und methods
A consecutive sample of 112 children and adolescents was recruited in a German university-based orthodontic clinic, and a convenience sample of 313 children and adolescents of German public schools was enrolled in the study (total
N
 = 425, age range 7–17 years). However, 29 participants were excluded due to insufficient information regarding migration background. Accordingly, the non-migrant group consisted of 262 participants (61.6%). For children with migration background, two groups were classified: (i) one parent born in a foreign country (
N
 = 41, 9.6%, single-sided migration background), and (ii) both parents and/or child born in a foreign country ( 
N
= 93, 21.9%, double-sided migration background). OHRQoL was assessed using the German 19-item version of the Child Oral Health Impact Profile (COHIP-G19). Additionally, physical oral health of 269 children with classified migration background was determined in a dental examination.
Results
Overall, OHRQoL was significantly lower in the group with double-sided migration background indicated by lower COHIP-G19 summary scores (mean: 58.6 points) than in the group with single-sided migration background (mean: 63.3 points) or the non-migrant group (mean: 63.2 points). Likewise, the summary scores of the subscale "oral health well-being" and the subscale "social/emotional, school, and self-image" were also lower in the double-sided migrant group than in the other two groups. Linear regression analysis showed an association between double-sided migration background and impaired OHRQoL, even after statistically controlling for demographic, socioeconomic, and oral health characteristics.
Conclusion
Children and adolescents with double-sided migration background have poorer OHRQoL than comparably aged migrants with single-sided migration background or non-migrations. Between-group differences in OHRQoL could not be sufficiently explained by effects of socioeconomic status or physical oral health characteristics. Thus, other methodological, cultural, or immigration-related factors might also play an important role for the observed effects.