21-11-2017 | Onderzoeksartikel | Uitgave 6/2017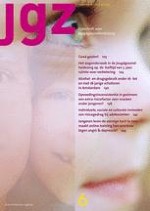 Opvoedingsinconsistentie in gezinnen: een extra risicofactor voor snacken onder jongeren?
Tijdschrift:
Auteurs:

D. W. M. Gevers, P. van Assema, E. F. C. Sleddens, N. K. de Vries, S. P. J. Kremers
Belangrijke opmerkingen
Dit artikel is een bewerking van: Gevers D.W.M., van Assema P., Sleddens E.F.C., de Vries N.K., Kremers S.P.J. Associations between general parenting, restrictive snacking rules, and adolescent's snack intake. The roles of fathers and mothers and interparental congruence. Appetite 2015;87:184–91. Met toestemming van Elsevier overgenomen.
Samenvatting
Er is weinig onderzoek gedaan naar de rol van vaders en consistentie tussen vaders en moeders in de opvoeding rondom het eetgedrag van kinderen. Het doel van deze studie was om het snackgedrag van adolescenten te verklaren door middel van algemene opvoeding, snackregels van zowel vaders als moeders, en inconsistenties tussen beide ouders in een gezin.
Adolescenten tussen de 11 en 15 jaar vulden een vragenlijst in om hun perceptie van algemene opvoeding en snackregels te meten. Daarnaast werd hun eigen snackinname nagevraagd.
Scores voor moeders waren significant hoger op alle opvoedingsconstructen dan voor vaders, behalve voor het construct 'dwangmatige controle'. Algemene opvoeding was niet sterk gerelateerd aan de snackinname van adolescenten. Snackregels die vaders en moeders stellen waren significant en negatief gerelateerd aan snackinname. Moderatie-analysen wezen er op dat grote inconsistenties tussen ouders het effect van vaders' regels en zorgzaamheid op de snackinname verzwakten.
De bevindingen laten zien dat algemene opvoeding en snackregels van zowel vaders als moeders belangrijk zijn voor het verklaren van snacken onder adolescenten. Bovendien lijken grote inconsistenties in snackregels en zorgzaamheid tussen beide ouders onwenselijk.