01-10-2013 | Original Article | Uitgave 5/2013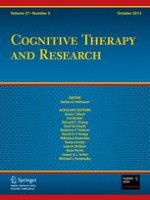 Optimism Reduces Suicidal Ideation and Weakens the Effect of Hopelessness Among Military Personnel
Tijdschrift:
Auteurs:

Craig J. Bryan, Bobbie N. Ray-Sannerud, Chad E. Morrow, Neysa Etienne
Belangrijke opmerkingen
The views expressed in this paper are those of the authors and do not necessarily represent the official position or policy of the US Government, the Department of Defense, or the US Air Force.
Abstract
Suicide risk is an issue of increasing concern among military personnel. To date, most studies have focused on identifying risk factors for suicide in military personnel, but have by and large overlooked possible protective factors that reduce suicide risk, such as optimism. In a clinical sample of 97 treatment-seeking active duty Air Force personnel, the protective effects of optimism on suicidal ideation was investigated by considering the direct effect of optimism on suicidal ideation as well as the possible moderating effects of optimism on several suicide risk factors: depression, posttraumatic stress, and hopelessness. When adjusting for demographic and clinical covariates, results of multiple regression indicated that optimism was significantly associated with less severe depression, hopelessness, and suicidal ideation, but not posttraumatic stress symptoms. The interaction of optimism with hopelessness was also significant, and indicated that severe hopelessness contributed to more severe suicidal ideation only among participants with low levels of optimism. Results suggest that optimism is associated with less severe suicidal ideation, and buffer the effects of hopelessness among military patients.