23-02-2017 | Commentary | Uitgave 3/2017 Open Access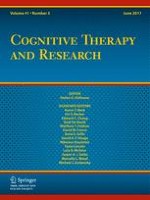 Opportunities and Challenges for the Emerging Field of Positive Emotion Regulation: A Commentary on the Special Edition on Positive Emotions and Cognitions in Clinical Psychology
Tijdschrift:
Auteur:

Barnaby D. Dunn
Emotion regulation is the variety of processes used to change the nature, frequency and intensity of emotion experience (Gross
2015
). Historically, basic science and clinical research have focused on understanding the consequences of emotion regulation strategies that aim to modulate negative feelings and how these may impact on psychopathology. However, more recently, there has been an increasing recognition that the regulation of positive feelings is also important (Bryant et al.
2011
; Carl et al.
2013
; Quoidbach et al.
2015
; Hofmann et al.
2012
). Understanding how to modulate positive emotions in a context appropriate fashion could not only increase levels of wellbeing in the general population but also lead to better outcomes for clinical disorders characterized by abnormalities in positive affect regulation. These include those conditions characterized by reduced positive affect (anhedonia), such as depression, social phobia and schizophrenia (e.g.; Dunn
2012
; Dunn and Roberts
2016
; Kashdan et al.
2011
; Watson and Naragon-Gainey
2010
) and those conditions characterized by elevated positive affect, such as the manic phase of bipolar disorder (e.g., Gruber
2011
).
This special edition brings together leading basic science and clinical researchers in this emerging field in an effort to improve understanding and treatment of positive emotion regulation in psychopathology. This commentary on the special edition will use the articles in the special edition to highlight challenges and opportunities for the field of positive emotion regulation and to suggest some future directions of travel. It will in turn focus on: how best to operationalize positive constructs; whether positive and negative phenomena are best characterized as orthogonal to one other; how to characterise underlying psychological mechanisms driving positive change; how to measure positive change; and finally how to ensure key findings are translated into meaningful changes to policy and practice.
Characterizing Positive Phenomena
In summary, the articles in the special edition demonstrate how positive affective, cognitive and behavioural phenomena in both clinical and non-clinical groups may be characterized more precisely. This is the first critical step in correcting disturbances in positivity seen in psychopathology.
Characterizing the Interrelationship Between Positive and Negative Emotion Regulation
Perhaps the key challenge for the positive emotion regulation field is to reach consensus about how to integrate with the large body of work looking at negative emotion regulation. A number of articles in the special edition directly speak to this issue or are implicitly influenced by it.
In summary, it is likely to be helpful for the field going forwards if studies are explicit about their underlying theoretical conceptualisation of how positive and negative affect systems are interrelated.
Characterizing the Psychological Mechanisms Underpinning Positive Phenomena
Characterizing how Best to Operationalize Positive Constructs
This commentary will finish with some general remarks about how to increase the likelihood that science of this kind leads to direct practical application.
The Importance of Co-design and an Implementation Science Perspective
Conclusions
This special edition has a range of interesting contributions that help characterize positive phenomena, explore how interrelated to negative phenomena they are, and identify psychological mechanisms underlying positive phenomena. These articles represent excellent examples of an emerging body of work on positive emotion regulation and its impact on psychopathology. To ensure the ongoing growth of this burgeoning field and to help it make a meaningful practical difference, it will be beneficial to measure positive constructs more robustly, to increase the rigor with which underlying mechanisms driving positive phenomena are evaluated, and to adopt an implementation science perspective to ensure findings are carried into real world practice.
Compliance with Ethical Standards
Conflict of Interest
Barnaby Dunn declares that he has no conflict of interest.
Open Access
This article is distributed under the terms of the Creative Commons Attribution 4.0 International License (
http://​creativecommons.​org/​licenses/​by/​4.​0/​
), which permits unrestricted use, distribution, and reproduction in any medium, provided you give appropriate credit to the original author(s) and the source, provide a link to the Creative Commons license, and indicate if changes were made.