01-05-2018 | Artikelen | Uitgave 2/2018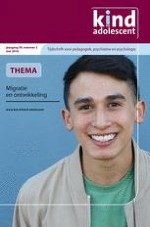 Op zoek naar verklaringen voor de ondervertegenwoordiging in de jeugdhulp van jongeren met een migratieachtergrond
Tijdschrift:
Auteurs:

Esmée E. Verhulp, Gonneke W. J. M. Stevens, Wilma A. M. Vollebergh
Belangrijke opmerkingen
Dit artikel is een bewerking van twee eerder verschenen Engelstalige artikelen:
Verhulp, E.E., Stevens, G.W.J.M., Schoot, R. van de, & Vollebergh, W.A.M. (2013). Understanding ethnic differences in mental health service use for adolescents' internalizing problems: the role of emotional problem identification.
European Child and Adolescent Psychiatry, 22
, 413–422
.
https://​doi.​org/​10.​1007/​s00787-013-0380-3
Verhulp, E.E., Stevens, G.W.J.M., Pels, T.V.M., Weert, C.M.C. van, & Vollebergh, W.A.M. (2017). Lay beliefs about emotional problems and attitudes toward mental health care among parents and adolescents: exploring the impact of immigration.
Cultural Diversity & Ethnic Minority Psychology, 23
, 269–280.
https://​doi.​org/​10.​1037/​cdp0000092
Samenvatting
Jongeren met een migratieachtergrond zijn ondervertegenwoordigd in de jeugdhulpverlening, terwijl zij niet minder problemen ervaren. Het huidige onderzoek was erop gericht zicht te krijgen op verklaringen voor deze ondervertegenwoordiging van migrantenjeugd met internaliserende problematiek. Aan dit onderzoek namen 349 jongeren en hun ouders deel; 95 jongeren hadden een Nederlandse, 85 een Surinaams-Nederlandse, 87 een Turks-Nederlandse en 82 een Marokkaans-Nederlandse achtergrond. De helft van deze jongeren rapporteerde een verhoogd risico op internaliserende problemen. Ouders en jongeren met een migratieachtergrond identificeerden minder emotionele problemen dan ouders en jongeren zonder deze achtergrond, hetgeen een belangrijke verklaring bleek voor de etnische verschillen in zorggebruik voor internaliserende problemen. Daarnaast vonden we etnische verschillen in opvattingen van ouders over oorzaken van en oplossingen voor problemen, en in attitude tegenover de hulpverlening. Deze verschillen verklaarden de etnische verschillen in zorggebruik voor jongeren echter niet. Jongeren met een migratieachtergrond ontvingen ten slotte ook niet meer – en soms zelfs minder – informele hulp.