01-10-2010 | Original article | Uitgave 10/2010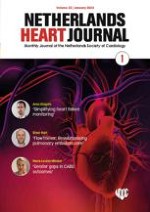 One-year clinical follow-up of a registry evaluating a percutaneous revascularisation strategy combining a pre-specified simple selection process with the use of a new thin-strut bare cobalt-chromium stent
Tijdschrift:
Auteurs:

P. R. Stella, G. Pavlakis, P. Agostoni, H. M. Nathoe, S. Hoseyni Guyomi, B. J. Hamer, T. X. Wildbergh, P. A. Doevendans, E. Van Belle
Belangrijke opmerkingen
Department of Cardiology, University Medical Center Utrecht, Utrecht, the Netherlands
Department of Cardiology, University Medical Center Utrecht, Room E.01.207, PO Box 85500,3508 GA Utrecht, the Netherlands
Abstract
Objectives
. To evaluate clinical events in a specifically selected cohort of patients with obstructive coronary artery disease (CAD), using a new generation thin-strut bare cobalt-chromium coronary stent.
Methods
. Patients with single- or multi-vessel, stable or unstable CAD eligible for percutaneous implantation of at least one bare cobalt-chromium stent were evaluated in a single-centre registry. Prospective pre-specified criteria for bare cobalt-chromium stent implantation in our centre were: any acute ST-elevation myocardial infarction (MI), otherwise 1) de novo coronary lesion, and 2) lesion length <20 mm, and 3) reference vessel diameter >2.6 mm, and 4) no diabetes, unless reference vessel diameter >3.5 mm. Endpoints, retrospectively collected, were death, MI and clinically driven target-lesion revascularisation (TLR) and target-vessel revascularisation (TVR) after 12 months.
Results
. Between September 2005 and June 2007, 712 patients (48.7% one-vessel, 29.9% two-vessel, 20% three-vessel and 1.4% left main disease; 7.9% diabetics) were treated with 800 bare cobalt-chromium stents, for stable angina (40.9%), unstable angina (20.9%) or acute ST-elevation MI (38.2%). The procedural success rate was 99.3%. Peri-procedural MI rate was 2.2% in the semi-elective group. At 12 months there were 17 deaths (2.4%), of which nine non-cardiac, 20 (2.8%) MI, 19 (2.7%) TLR and 29 (4.1%) TVR. Early and late definite stent thrombosis occurred in four (0.6%) and three (0.4%) patients, respectively.
Conclusion.
A strategy aimed at minimising drug-eluting stent use and combining a pre-specified simple selection process with the use of a new thin-strut bare cobalt-chromium stent is safe and effective at one-year clinical follow-up. (Neth Heart J 2010;18:486-92.)