Gepubliceerd in: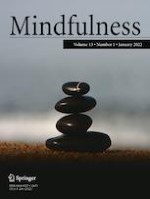 16-11-2021 | ORIGINAL PAPER
One-Session Mindfulness of the Breath Meditation Practice: a Randomized Controlled Study of the Effects on State Hope and State Gratitude in the General Population
Gepubliceerd in: Mindfulness | Uitgave 1/2022
Log in om toegang te krijgen
Abstract
Objectives
Brief, single-session mindfulness practices have been shown to reduce distress and increase mindfulness, emotion regulation, and optimism. However, their effects on state hope and gratitude have yet to be examined. Therefore, the effects of a mindfulness of the breath induction on state hope and state gratitude are explored in this online study.
Methods
A sample of 474 adults (69% female) from the general population were randomized to either a 10-minute mindfulness practice or a 10-minute audiobook control. Participants were asked to complete pre and post state measures of hope and gratitude, as well as state and trait mindfulness.
Results
Results showed significant positive effects of mindfulness practice for the outcomes state hope (
d
 = 0.68;
p
 < .001) and state gratitude (
d
 = 1.12;
p
 < .001) compared to controls. A significant statistical mediating effect of state mindfulness in the relationship between mindfulness practice and outcomes was also found.
Conclusions
Overall, findings have implications for mindfulness inductions and how these can be helpful in improving individuals' state hope, gratitude, and mindfulness. In particular, this study has demonstrated that a 10-minute, remotely delivered, mindfulness induction can have medium to large positive effects on state hope and gratitude for individuals from the general population. These effects are especially noteworthy given the brevity and online delivery of the practice. Further future research directions are discussed.
Trial registration
ClinicalTrials.gov Identifier: NCT04099758.