01-06-2016 | Artikel | Uitgave 2/2016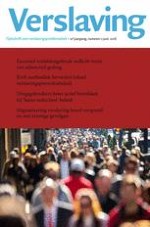 Onderzoek naar stigmatisering van mensen met een alcohol- of drugsverslaving
Tijdschrift:
Auteurs:

Leonieke C. van Boekel, Evelien P. M. Brouwers, Henk F. L. Garretsen, Jaap van Weeghel
Belangrijke opmerkingen
Dit artikel is gebaseerd op het proefschrift van Leonieke van Boekel en is een met toestemming van de uitgever gemaakte bewerking van 'Stigma en verslaving' (Van Boekel et al. (2015) in van Weeghel et al. (red.) (2015),
Handboek destigmatisering bij psychische aandoeningen. Principes, perspectieven en praktijken
. Bussum: Coutinho.
Samenvatting
Dit artikel beschrijft een onderzoek waarbij stigmatiserende attitudes ten opzichte van mensen met een alcohol- of drugsverslaving in kaart zijn gebracht. Daarnaast is onderzocht welke percepties men heeft over de gevolgen van stigmatisering voor de hulpverlening en rehabilitatie van mensen met een verslaving. Door middel van vragenlijstonderzoek zijn attitudes in kaart gebracht en met elkaar vergeleken bij de algemene bevolking, huisartsen, hulpverleners in de geestelijke gezondheidszorg en verslavingszorg, en cliënten in behandeling voor een verslaving. Het blijkt dat mensen met een verslaving veel negatieve reacties oproepen en regelmatig worden gestigmatiseerd. De hoge mate van persoonlijke verantwoordelijkheid ('eigen schuld') en de verwachting dat iemand met een verslaving agressief en gevaarlijk is, dragen bij aan stigmatisering. Bij hulpverleners is er ruimte voor verbetering van de attitudes. Voldoende ondersteuning van hulpverleners is van belang om te zorgen dat zij zich competent voelen en met zelfvertrouwen cliënten met een verslaving kunnen ondersteunen of begeleiden. Cliënten ervaren de meeste discriminatie in de directe kring (zoals familie en vrienden) en in relaties. In de behandeling van verslaving dient er voldoende aandacht te zijn voor de rol van stigma en voor de wijze waarop cliënten en hulpverleners hiermee het beste kunnen omgaan.