01-02-2007 | Artikel | Uitgave 1/2007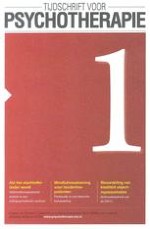 Onderzoek en psychotherapie (serie):

Is gangbare zorg net zo effectief als getrapte zorg voor mensen met angst- en stemmingsstoornissen?
Tijdschrift:
Auteurs:

A. Van Straten, J. Meeuwissen, B. Tiemens, L. Hakkaart, W. A. Nolen, M. C. H. Donker
Belangrijke opmerkingen
dr. a. van straten
, universitair docent, werkzaam bij de Vrije Universiteit Amsterdam, afdeling Klinische psychologie, tevens werkzaam bij het Trimbos-instituut, Utrecht;
drs. j. meeuwissen
, onderzoeker, is eveneens werkzaam bij het Trimbos-instituut;
dr. b. tiemens
, hoofd programma Wetenschappelijke kennis, is werkzaam bij het Gelderse Roos-instituut voor professionalisering (GRIP) te Renkum;
dr. l. hakkaart
, onderzoeker, is werkzaam aan het
institute for medical technology assessment
(iMTA), Erasmus UMC, Rotterdam;
prof. dr. w.a. nolen
is hoogleraar psychiatrie, in het bijzonder emotionele stoornissen, aan het UMC Groningen;
prof. dr. m.c.h. donker
is hoogleraar volksgezondheidsbeleid aan het Erasmus UMC.
Correspondentieadres: Dr. A. van Straten, Faculteit der psychologie en pedagogiek, afdeling Klinische psychologie
Vrije Universiteit, Van der Boechorststraat 1, 1081 BT Amsterdam.
E-mail:
a.​van.​straten@psy.​vu.​nl
Het onderzoek werd gefinancierd door ZonMw (project 9605011) en SBWOGG, een onafhankelijke stichting die de hoogleraarstoel van prof. dr. M. Donker beheerde ten tijde van het onderzoek. We bedanken Brigitte Schaefer voor de coördinatie van het datamanagement en Jos Twisk voor zijn hulp bij de statistische analyses.
Stepped care versus matched care for mood and anxiety disorders: a randomised trial in routine practice
Many different types of treatment are applied in Dutch mental health care. Most of the time, a multidisciplinary team decides which of those treatments is given, taking into account the specific characteristics of the client. It is hypothesized that this matching of client and therapy is more effective than initially giving everyone the same treatment, as is common in
stepped care
. In our study we tested this hypothesis by comparing
matched care
with either Brief Therapy or Cognitive Behaviour Therapy, both as first steps in a
stepped care
approach. The results indicate that matched care is as effective as stepped care. However, in stepped care these treatment results are obtained with a smaller number of sessions.
Abstract
In de GGZ worden veel verschillende therapieën toegepast. Gangbaar is dat een multidisciplinair intaketeam een behandeling indiceert op basis van de kenmerken van de cliënt en diens klachten. Verondersteld wordt dat deze 'matching' van cliënt en behandeling effectiever is dan een aselectere toewijzing van zorg zoals gangbaar in de 'getrapte zorg' (
stepped care
). In dit artikel wordt deze veronderstelling onderzocht door een
matched care
-toewijzing te vergelijken met enerzijds een vijf-gesprekkenbehandeling en anderzijds cognitieve gedragstherapie, als eerste stappen van een
stepped care-
aanpak. De resultaten laten zien dat
matched care
en
stepped care
even effectief zijn, maar met
stepped care
worden deze behandelresultaten behaald in een geringer aantal sessies.