11-12-2019 | ORIGINAL PAPER | Uitgave 3/2020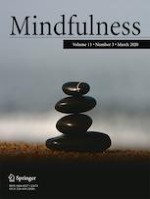 Novel Associations Among Trauma, Mindfulness, and Impaired Control Over Alcohol Use
Tijdschrift:
Auteurs:

Tessa Frohe, Robert F. Leeman, JeeWon Cheong, Daniel A. Belton, Julie A. Patock-Peckham
Belangrijke opmerkingen
Publisher's Note
Springer Nature remains neutral with regard to jurisdictional claims in published maps and institutional affiliations.
Abstract
Objective
Two thirds of adults experience at least one lifetime traumatic incident. Specifically, childhood traumas (physical neglect, emotional neglect, physical abuse, emotional abuse, and sexual abuse) are associated with increased alcohol use. According to the self-medication hypothesis, alcohol is used to alleviate upsetting thoughts and memories. This may lead to greater impaired control over alcohol use (i.e., a breakdown of an intention to limit drinking). Utilizing mindfulness reduces maladaptive responses to trauma. Trauma and difficulties maintaining control (generally) have been examined with mindfulness as a mediator; however, control over alcohol use specifically, has not.
Methods
We analyzed data from a cross-sectional, student survey (
N
 = 847, 49% female) utilizing path modeling. We examined mindfulness and impaired control over alcohol use as potential mediators between trauma and alcohol outcomes (i.e., drinks per drinking day [DPDD] and alcohol-related problems).
Results
Emotional neglect (EN) was the strongest predictor among five facets of trauma. Higher EN related to lower mindfulness (
β
 = − 0.22; SE = 0.05;
p
 ≤ 0.001) and greater impaired control over alcohol (
β
 = 0.11; SE = 0.06;
p
 = 0.05). Finally, EN was related to higher DPDD, mediated by mindfulness and impaired control over alcohol use (standardized indirect effect = 0.006; 95% CI, 0.002, 0.012).
Conclusion
These findings suggest potential mediating pathways from childhood trauma to alcohol-related outcomes via mindfulness and greater impaired control over alcohol use. Current research informs efforts to promote mindfulness interventions to reduce alcohol use and related problems among college students, especially those who have experienced childhood traumas and may experience elevated impaired control over alcohol use.