24-12-2015 | Original Paper | Uitgave 6/2016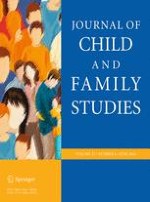 Non-Suicidal Self-Injury and Adolescents Attachment with Peers and Mother: The Mediating Role of Identity Synthesis and Confusion
Tijdschrift:
Auteurs:

Amarendra Gandhi, Laurence Claes, Guy Bosmans, Imke Baetens, Tom F. Wilderjans, Shubhada Maitra, Glenn Kiekens, Koen Luyckx
Abstract
Non-suicidal self-injury (NSSI) is highly prevalent in adolescents. Secure attachment with family and peers can reduce vulnerability to NSSI and can optimize the outcomes of developmental challenges such as identity formation. Problems experienced in these developmental processes and contexts can increase vulnerability to NSSI. Hence, the present study examined associations between attachment with mother and peers, identity formation, and NSSI, using self-report questionnaires in 528 high school students (Mean age = 15.0 years,
SD
= 1.84, 11–19 years, 50.4 % females). The lifetime prevalence of NSSI was found to be 14.2 %. Mediation analyses indicated that peer trust had a significant negative indirect effect on NSSI via identity synthesis and confusion. The positive association between peer alienation and NSSI was partially mediated by a lack of identity synthesis. Further, the pathways from maternal trust and alienation to NSSI were fully mediated by both identity confusion and synthesis. Clinical implications and suggestions for future research are discussed.