01-12-2021 | Research | Uitgave 1/2021 Open Access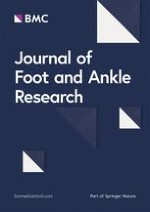 Non-pharmacological interventions and corticosteroid injections for the management of the Achilles tendon in inflammatory arthritis: a systematic review
Tijdschrift:
Auteurs:

Shaily Modi, Deborah Turner, Kym Hennessy
Belangrijke opmerkingen
Supplementary Information
Publisher's Note
Springer Nature remains neutral with regard to jurisdictional claims in published maps and institutional affiliations.
Abstract
Background
Achilles tendon (AT) pathologies, particularly Achilles enthesitis, are common in inflammatory arthritis (IA). Although there are various non-pharmacological interventions and injection therapies available, it is unknown if these interventions are effective for people with IA, as this population is often excluded from studies investigating the management of AT pathologies. This study aimed to identify and critically appraise the evidence for non-pharmacological interventions and corticosteroid injections in the management of AT pathology in those with IA.
Methods
All studies which met the inclusion criteria (AT interventions in adults with a working clinical diagnosis of IA, English language) were identified from the following databases: Medline, Embase, CINAHL and the Cochrane Library. The search strategies used the search terms 'spondyloarthropathies', 'inflammatory arthritis', 'achilles tendon', 'physical therapy', 'conservative management', 'injections', and related synonyms. Studies included were quantitative longitudinal design, such as randomised controlled trials, pseudo randomised and non-randomised experimental studies, observational studies, cohort studies, and case control studies. All outcome measures were investigated, quality assessment to determine internal and external validity of included studies was undertaken, and qualitative data synthesis was conducted.
Results
Of the 10,911 articles identified in the search strategy, only two studies that investigated the efficacy of corticosteroid injections for the management of the AT in IA met the inclusion criteria, and no studies were identified for non-pharmacological interventions. Both injection studies had low quality rating for internal and external validity, and thus overall validity. The included studies only investigated two outcome domains: pain and ultrasound (US) (B Mode and Doppler) identified abnormalities and vascularity in the AT. There is weak evidence suggesting a short-term improvement (6–12 weeks) in pain and for the reduction in some abnormal US (B-Mode and Doppler) detectable features (entheseal thickness, bursitis, and entheseal vascularity) at the AT and surrounding structures post-corticosteroid injection.
Conclusion
Weak evidence is available regarding the efficacy of corticosteroid injections in reducing pain and inconclusive evidence for the improvement of abnormal US detectable features. No studies were identified for non-pharmacological interventions. It is evident from the lack of relevant literature that there is an urgent need for more studies assessing non-pharmacological interventions for the AT in people with IA.